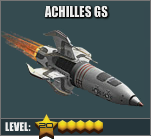 SPLASH DAMAGE
INFANTRY
VEHICLE
AIRCRAFT
YES
GOOD
GOOD
GOOD
Stat Progression
Level
Upgrade Cost
Upgrade
Time
Defense
Lab
Set Rocket Cost
Set
Time
ROF
Range
Damage
(DPS)
Metal
Oil
Thorium
Metal
Oil
Thorium
1
30,000,000
30,000,000
0
5m
19
1,000,000
1,000,000
100,000
5s
12
500
37,037
2
45,000,000
45,000,000
0
1h
19
2,000,000
2,000,000
200,000
5s
12
520
40,987
3
60,000,000
60,000,000
0
3h
19
3,000,000
3,000,000
300,000
5s
12
540
44,938
4
75,000,000
75,000,000
0
12h
19
4,000,000
4,000,000
400,000
5s
12
560
48,888
5
90,000,000
90,000,000
0
1d
19
5,000,000
5,000,000
500,000
5s
12
580
52,839
6
105,000,000
105,000,000
0
1d
19
6,000,000
6,000,000
600,000
5s
12
600
56,790
7
120,000,000
120,000,000
0
1d
19
7,000,000
7,000,000
700,000
5s
12
620
60,740
8
135,000,000
135,000,000
0
1d
19
8,000,000
8,000,000
800,000
5s
12
640
64,691
9
150,000,000
150,000,000
0
1d
19
9,000,000
9,000,000
900,000
5s
12
660
68,641
10
165,000,000
165,000,000
0
1d
19
10,000,000
10,000,000
1,000,000
5s
12
680
74,074
11
180,000,000
180,000,000
0
1d
19
11,000,000
11,000,000
1,100,000
5s
12
700
81,481
12
195,000,000
195,000,000
0
1d
19
12,000,000
12,000,000
1,200,000
5s
12
720
88,888
13
210,000,000
210,000,000
0
1d
19
13,000,000
13,000,000
1,300,000
5s
12
740
96,296
14
225,000,000
225,000,000
0
1d
19
14,000,000
14,000,000
1,400,000
5s
12
760
103,703
15
240,000,000
240,000,000
0
1d
19
15,000,000
15,000,000
1,500,000
5s
12
800
111,111
16
0
1d
15,000,000
15,000,000
1,500,000
5s
12
800
133,333
17
0
2d
15,000,000
15,000,000
1,500,000
5s
12
800
155,555
18
0
3d
15,000,000
15,000,000
1,500,000
5s
12
800
177,777
19
350,000,000
350,000,000
0
4d
15,000,000
15,000,000
1,500,000
5s
12
800
200,000
20
400,000,000
400,000,000
0
5d
15,000,000
15,000,000
1,500,000
5s
12
800
222,222
Total
2,025,000,000
2,025,000,000
0
   #s3gt_translate_tooltip_mini { display: none !important; }
Update History
Listed in Reverse Chronological Order -- Click [ Expand ] to View Earliest Updates
Additional Facts
The Achilles GS Rocket is only able to Target and Fire upon Unique Units.

Unique Units are identified with the icon in both units Production and Upgrade buildings.

The Achilles GS Rocket may Target Unique belonging to all three Unit Classes:
The Achilles GS Rocket can be shot down by Anti-Air Units such as Liberators.
Trivia
Quotes
"

The Achilles GS is equipped with a precision targeting system, causing it to target only Uniques, dealing high damage to them and surrounding enemies.

"



 

— In-Game Description 
Related Pages
External Links
Gallery
Images may have been resized to fit in the page. Click on an image to enlarge.