AIRCRAFT HANGAR
BUILDING DESCRIPTION
The Aircraft Hangar Allows for the Production & Storage of Additional Aircraft Units.
EFFECTS OF UPGRADE
Upgrading the Aircraft Hangar Increases The Total Aircraft Capacity.
REQUIREMENTS
Level 3 Command Center
<< Prev
( C )
Military Building
( T )
Next >>
Stats Upgrade Progression
Level
Upgrade Cost
Upgrade
Time
Command
Center
Power
Usage
Hangar
Capacity
Metal
Oil
Thorium
1
6,000
6,000
0
25s
3
5
175
2
12,000
12,000
0
4m 10s
3
10
350
3
100,000
100,000
0
50m
4
15
700
4
200,000
200,000
0
4h 10m
4
20
1,050
5
400,000
400,000
0
12h 30m
4
25
1,400
6
1,000,000
1,000,000
500,000
5s
30
2,100
7
8,000,000
8,000,000
1,000,000
5s
35
2,800
8
12,000,000
12,000,000
2,000,000
5s
40
3,500
9
28,000,000
28,000,000
3,000,000
5s
45
4,200
10
35,000,000
35,000,000
4,000,000
5s
50
5,600
Total
84,718,000
84,718,000
10,500,000
17h 35m
Upgrade Experience (XP)
Experience Points Awarded per Upgrade Level
Level 1
Level 2
Level 3
Level 4
Level 5
Level 6
Level 7
Level 8
Level 9
Level 10
3,609
3,629
19,875
126,750
1,950,002
4,300,002
8,500,000
13,300,000
Total Experience Points =
For More information on this see Experience Points.
Appearance Progression
Aircraft Hangar Appearance Progression
Level 1-4
Level 5-9
Level 10
States of Repair
Normal
Damaged
Destroyed
100% to 50% Health
49% to 1% Health
0% Health
Total Repair Time :

59 min
Building Function
Aircraft Storage
The Aircraft Hangar provides extra Storage Capacity of Air Units. This Allows for the construction of more Aircraft types giving the Player a variety of options when deciding what Aircraft to use in specific situations. The higher the Level of the Hangar the greater the Aircraft Storage Capacity.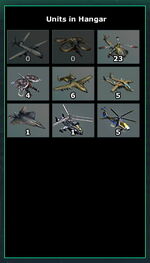 Aircraft are moved out of the Hangar to the Aircraft Platoon in order to deploy them into battle. However  Aircraft that have sustained any amount of Damage may not be
Aircraft Platoon
The Aircraft Platoon is where all deployable Aircraft are held.  The Aircraft Platoon is also where all Aircraft Repairs now take place.

-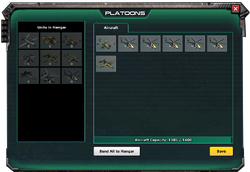 Update History
Listed in Reverse Chronological Order -- Click Expand to View Earliest Updates
Additional Facts
In-Game Quotes
Click Expand to View Additional Quotes
"

STORAGE WARS - Brilliant, Commander - plenty of space for all of your toys.

"



 

— Construction Complete Message 
"

PREPARE FOR TAKEOFF - With all of this space, the enemy will never know what's coming from the sky!.

"



 

— Level 5 Message 
Related Pages
External Links
Animated Gallery
Gallery
Images may have been resized to fit in the page. Click on an image to enlarge.