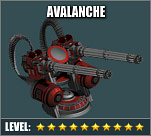 SPLASH DAMAGE
INFANTRY
VEHICLE
AIR
NO
GOOD
BEST
BEST
Upgrade Progression
LEVEL
UPGRADE COST
UPGRADE
TIME
DEFENSE
LAB
PRODUCTION COST
SETTING
TIME
ROF
RANGE
DAMAGE
(DPS)
POWER
USED
Metal
Oil
Metal
Oil
Thorium
1
50,000,000
50,000,000
1h
10
10,000,000
10,000,000
3,000,000
5s
71
400
1,100
2
60,000,000
60,000,000
5h
10
15,000,000
15,000,000
4,000,000
5s
71
425
1,200
3
70,000,000
70,000,000
10h
10
20,000,000
20,000,000
5,000,000
5s
71
450
1,300
4
75,000,000
75,000,000
20h
10
25,000,000
25,000,000
6,000,000
5s
71
475
1,400
5
84,000,000
84,000,000
1d 16h
10
30,000,000
30,000,000
7,000,000
5s
71
500
33,066
1,500
6
93,000,000
93,000,000
3d 8h
10
35,000,000
35,000,000
8,000,000
5s
71
525
1,500
7
97,000,000
97,000,000
6d 16h
11
40,000,000
40,000,000
9,000,000
5s
71
550
37,333
1,500
8
100,000,000
100,000,000
12d 3h 40m
11
45,000,000
45,000,000
10,000,000
5s
71
600
40,000
1,500
9
90,000,000
90,000,000
5d
12
25,000,000
25,000,000
2,500,000
5s
71
600
42,666
1,500
TOTAL
719,000,000
719,000,000
30d 7h 40m
Appearance Progression
APPEARANCE PROGRESSION
LEVEL 1
LEVEL 2
LEVEL 3
LEVEL 4
LEVEL 5
LEVEL 6
LEVEL 7
LEVEL 8
LEVEL 9
Update History
Listed in Reverse Chronological Order -- Click Expand to View Earliest Updates
Additional Facts
The Avalanche has a initial Charge-Up Time before it can fire of

.25 seconds

. ( Ref )
The Avalanche increases its Damage output as it Charges up to maximum. ( Ref )
Damage scales up

10% per seconds

of continuous fire.
A maximum bonus of

+ 200%

is reached at

20 seconds

.

It will maintain maximum Charge & Damage as long as it continuously firing.
If all targets are cleared it will power down and loose its charge.

The Avalanche will

NOT

Target or Fire upon :
Trivia
The Avalanche is strong against Light Vehicles and Drones
The Avalanche is weak against Tanks and Armored Infantry
The Avalanche Turret's  buff applies itself for every 10 seconds the turret continues firing, and caps out at 400%
The Buff scales the Turret's damage linearly rather than multiplacetely. That is to say it adds a flat damage increase with each level rather than multiplying the damage of the previous buff. I.e., if a player had a max level Avalanche Turret that fired for 40 seconds, it would gain an additional 3,130 damage for each 10 second it fired. ( Ref ).
Pixel Sheet Code : Tower 45
Quotes
"

A powerful turret that powers up as it fires. Once fully charged, this turret deals out large damage. If there are no targets the turret powers down and the damage bonus is removed.

"



 

— In-Game Description 
Related Pages
External Links
Gallery
Images may have been resized to fit in the page. Click on an image to enlarge.
Gallery - Historical
Images may have been resized to fit in the page. Click on an image to enlarge.
Ad blocker interference detected!
Wikia is a free-to-use site that makes money from advertising. We have a modified experience for viewers using ad blockers

Wikia is not accessible if you've made further modifications. Remove the custom ad blocker rule(s) and the page will load as expected.