T • C
   ATTENTION : ADDITIONAL WORK REQUIRED !   

This Article may not meet WCWikia's Standards and may contain Incomplete or Missing Information.
You can help by Expanding this Article.

The Billy Goat is the Highway Zealots' edition of the Nightmare. It is exclusively found in Highway Zealots bases, and have a few differing properties from the regular Nightmare.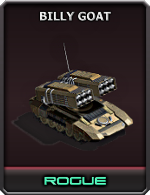 Update History
Listed in Reverse Chronological Order -- Click [ Expand ] to View Earliest Updates
Additional Information
Trivia
Firsts & Records
War Commander First

 :

Possesses the Longest Maximum Range ( 950 ) of any Unit - The Billy Goat
First NPC Unit to receive the Minimum Range attribute - The Billy Goat ( Tie with the TRAC-R )
Quotes
"

Rocket platform that pushes the limits of rockets range.

"



 

— Unit Description 
"

That new unit appears to a modified Nightmare. Redesigned to be a true artillery unit.

"



 
— RUBI ( Lv 50 Event Base Dialog - Operation: The Greater Good ) [src]
Related Pages
External Links
Gallery
Images may have been resized to fit in the page. Click on an image to enlarge.