---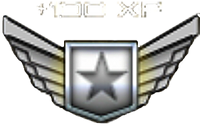 For Special Events featuring periodic Fortress Waves the Player is given a chance to obtain Bonus eXP by Destroying specified Bonus XP Targets in a set amount of time. These Targets are identified by Small Winged Shield Icon floating above each. 
Bonus XP Targets are unique for each Special Event and fit within the overall Theme of each.
Detailed Information
Bonus XP Targets

are only found on Fortress Waves.
There are

3

Bonus XP Targets

per Fortress.
Each

Bonus XP Target

is worth

100 to 200 XP

.
The Player is only awarded for the

Bonus XP Targets

completely destroyed during the first

5 Minutes

of an Attack on the Fortress.
If a Fortress is Reset so are all the

Bonus XP Targets

.
The Player will have the gained

0 to 600 Bonus XP

added to the XP awarded for the successful completion of the Fortress Wave.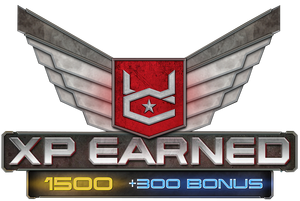 Additional Info
The above current Bonus XP Target format was introduced in Operation: Deadpoint.
Prior to the introduction of the Fortress waves a slightly altered version of current Bonus XP Target format was found in the earlier Special Event, Operation: Archangel.
The Bonus XP Targets by Event
Gallery
Images may have been resized to fit in the page. Click on an image to enlarge.
Ad blocker interference detected!
Wikia is a free-to-use site that makes money from advertising. We have a modified experience for viewers using ad blockers

Wikia is not accessible if you've made further modifications. Remove the custom ad blocker rule(s) and the page will load as expected.