---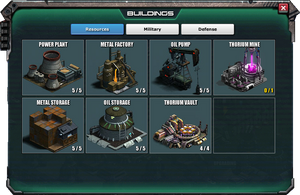 The Buildings
BUILDINGS - RESOURCES
NAME
ICON
DESCRIPTION
Metal Factory
Produces the Resource Metal. It's Level determines the rate of production and the amount that it will hold before it must be collected.
Metal Storage
Where all the Metal produced or looted is stored. Metal must be stored here in order to be "spent". It's level determines its capacity.
Oil Pump
Produces the Resource Oil. It's Level determines the rate of production and the amount that it will hold before it must be collected.
Oil Storage
Were all the Oil produced or looted is stored. Oil must be stored here in order to be "spent". It's level determines its capacity.
Power Plant
Produces all the power needed by Defense Turrets as well as all the other buildings.
Thorium Mine
The Thorium Mine digs deep into the ground to produce precious Thorium.
Thorium Vault
Were all the Thorium mined or looted is stored. Thorium must be stored here in order to be "spent". It's level determines its capacity.
Listed in Alphabetical Order
Update History
Listed in Reverse Chronological Order -- Click Expand to View Earliest Updates
Additional Information
Trivia
The Resource Building category has the fewest building of all 4 categories.
Related Pages
Gallery
Images may have been resized to fit in the page. Click on an image to enlarge.
---
Pages in category "Buildings-Resource"
The following 7 pages are in this category, out of 7 total.
Ad blocker interference detected!
Wikia is a free-to-use site that makes money from advertising. We have a modified experience for viewers using ad blockers

Wikia is not accessible if you've made further modifications. Remove the custom ad blocker rule(s) and the page will load as expected.