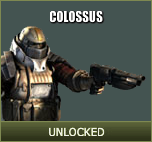 | | | | | | | |
| --- | --- | --- | --- | --- | --- | --- |
| SPLASH DAMAGE | SPACE | INFANTRY | VEHICLE | AIR | BUILDING | MAP SPEED |
| Yes | 35 | BEST | OK | CAN'T HIT | OK | 1.0 |
Stat Progression
Level
Upgrade Cost
Upgrade
Time
Academy
Level
Production Cost
Speed
Health
Range
Damage
(DPS)
Metal
Oil
Thorium
Metal
Oil
1
N/A
N/A
N/A
N/A
5
16,000
20,000
1
3,500
100
251
2
3,000,000
2,700,000
0
1d
6
19,200
26,000
1
3,715
111
303
3
4,500,000
4,050,000
0
1d 9h 36m
7
23,000
33,800
1
3,930
120
339
4
6,000,000
5,400,000
0
1d 23h 02m
7
27,600
44,000
1
4,145
123
375
5
7,500,000
6,750,000
0
2d 17h 51m
8
33,200
57,200
1
4,360
126
411
6
9,320,000
8,388,000
0
3d 20h 11m
8
39,800
74,400
1
4,575
130
448
7
11,390,630
10,251,600
0
5d 9h 9m
9
47,800
96,800
1
4,790
133
484
8
17,085,950
15,377,400
0
7d 12h 40m

9
57,400
125,800
1
5,005
136
520
9
25,628,930
23,066,000
0
10d 12h 56m

10
312,258
354,123
1
5,500
140
571
10
25,628,930
23,066,000
400,000
5s
10
100,000
225,000
1
8,000
160
629
11
25,628,930
23,066,000
400,000
5s
10
100,000
225,000
1
8,800
160
691
12
29,700,000
29,700,000
800,000
5s
10
100,000
225,000
1
9,600
160
754
13
32,670,000
32,670,000
1,200,000
5s
10
100,000
225,000
1
10,400
160
817
14
32,670,000
32,670,000
1,200,000
5s
10
100,000
225,000
1
11,200
160
880
15
5s
10
100,000
225,000
1
160
16
10
100,000
225,000
1
160
Total
230,723,370
217,155,000
4,000,000
34d 3h 34m
Yellow indicates increase from previous level. Underline Indicates Max Value.
Build Times & Repair Information
Level 10 Barracks Build & Repair Times Per Colossus Level
Level 1
Level 2
Level 3
Level 4
Level 5
Level 6
Level 7
Level 8
Level 9
Level 10+
Build
1h 39m
1h 39m
1h 39m
1h 39m
1h 39m
1h 39m
1h 39m
1h 39m
1h 39m
1h 46m
Repair
29m 43s
29m 43s
29m 43s
29m 43s
32m 05s
Level 10 Barracks Repair Costs Per Colossus Level
Metal
11,940
30,000
Oil
22,320
67,500
Times for other Barracks Levels may be calculated by adding 5% for each level below Level 10.
Related Special Ops
Name
Icon
Class
Level
Description
Time of
Effect
Thorium to
Extend Op
Sniff Test
Attack
Common
5 Mercenary Attack Dogs join your attack after you deploy ground units.
1h
50,000
Jolly Giant
Attack
Common
3 Mercenary Colossus join your attack after you deploy ground units.
1h
50,000
Heavy Lifting
Attack
Unommon
5 Colossus and 5 Hercules join your attack after you deploy ground units.
1h
100,000
More Information and a the Full List of Ops available here: Special Ops
Related Missions
    ADVANCED MISSION  ( T )    
MISSION
ICON
MISSION DESCRIPTION
AWARD
IMAGES
UNLOCK
Pre
Post
Sickle Stronghold
Destroy 1 Level 40 Sickle Syndicate Bases.
Collossus
X
X
Advanced Missions Do Not Become Available Until The Previous Advanced Mission is Completed.
History of Availability
  Colossus Advanced Mission History  
ADVANCED MISSION STATUS
TOTAL MISSION BASES
GAME UPDATE
Introduction
1 Sickle Syndicate
Offered as Advanced Mission Prize Continuously
Update History
Listed in Reverse Chronological Order -- Click Expand to View Earliest Updates
Additional Facts
In-Game Quotes
Click Expand to View Additional Quotes
"

Equipped with heavy armor with a shotgun, the Colossus thrives on the front line of any battlefield.

"



 

— In-game description 
"

Equipped with the heaviest armor possible and armed with a new combat shotgun, the Colossus shrugs off damage that would stop tanks in their treads.

"



 

— Level 10 description 
"

LEAD THE CHARGE - Send your upgraded Colossus into battle and watch enemy bases go up in flames!

"



 

— R.U.B.I. (Upgraded to Level 10) 
"

The Sickle Syndicate have set up new level 40 bases all over the World Map. Destroy 1 of these bases and we'll able to mimic Kalashnikovs top secret Colossus infantry unit. Other level bases or factions will not count towards this mission.

"



 

— R.U.B.I. - Mission Challenge 
"

Well done, Commander! The Colossus Infantry Unit is now at your disposal. But remember - our battle against the Sickle Syndicate has only just begun.

"



 

— R.U.B.I. - Mission Complete 
Related Pages
External Links
Kixeye Forum ( 08/16/13 ) - Introducing Medals ( Official ) - Introduction of the Colossus in the Gear Store.
Animated Photo
Gallery
Video
NOTE: Some Stats In The Videos May Be Outdated.
00:49

War Commander Colossus-0

02:54

War commander power of the colossus unit.
---