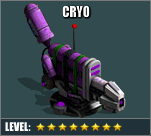 SPLASH DAMAGE
INFANTRY
VEHICLE
AIR
YES
GOOD
BEST
CAN'T HIT
( T ) • ( C )
  STATUS EFFECT WEAPON : CRYO  
Decreases the Movement Speed of All Affected Units  //  AoE Weapon
Upgrade Progression
LEVEL
UPGRADE COST
UPGRADE
TIME
DEFENSE
LAB
PRODUCTION COST
SETTING
TIME
ROF
RANGE
DAMAGE
( DPS )
POWER
USED
Metal
Oil
Thorium
Metal
Oil
Thorium
1
15,000,000
15,000,000
500,000
5s
8
3,750,000
3,750,000
200,000
5s
12
355
22
1,100
2
20,000,000
20,000,000
200,000
5s
9
5,000,000
5,000,000
200,000
5s
12
379
30
1,200
3
20,000,000
20,000,000
300,000
5s
9
5,000,000
5,000,000
200,000
5s
12
410
40
1,300
4
25,000,000
20,000,000
400,000
5s
10
6,250,000
5,000,000
200,000
5s
12
443
52
1,400
5
25,000,000
20,000,000
500,000
5s
10
6,250,000
5,000,000
200,000
5s
12
479
69
1,500
6
40,000,000
40,000,000
1,500,000
5s
10
10,000,000
10,000,000
450,000
5s
12
479
153
1,500
7
40,000,000
40,000,000
2,000,000
5s
10
10,000,000
10,000,000
600,000
5s
12
479
168
1,500
8
80,000,000
80,000,000
4,000,000
5s
10
5s
12
540
183
1,500
TOTAL
265,000,000
255,000,000
9,400,000
30s
Appearance Progression
APPEARANCE PROGRESSION
LEVEL 1
LEVEL 2
LEVEL 3
LEVEL 4
LEVEL 5
LEVEL 6
LEVEL 7
LEVEL 8
Related Missions
STANDARD MISSION  ( T )
MISSION
ICON
MISSION DESCRIPTION
COMPLETION AWARDS
IMAGES
METAL
OIL
Pre
Post
Cold Front
Unlock Cryo Cannon in Defense Lab
2,000,000
2,000,000
X
X
Some Missions May Not Be Available Until The Completion Of Others.
Update History
Listed in Reverse Chronological Order -- Click Expand to View Earliest Updates
Additional Facts
Firsts & Records
War Commander First

 :

First Turret to require the use of Thorium to upgrade - Cryo Cannon Turret
Quotes
Click Expand to View Additional Quotes
"

The Cryo Cannon launches shells filled with a chemical designed to ice over a wide area instantly, slowing the movement of any attackers in a flash freeze.

"



 

— In-Game Description 
"

FREEZE FRAME - It's getting chilly, Commander - better bundle up!

"



 

— Level 1 Message 
"

THE ICEMAN COMETH - There's no easier target than an enemy on ice!

"



 

— Level 5 Message 
"

MISSION - Commander, you should research the Cryo Cannon, it would let us roll out an icy welcome mat for our enemies.

"



 

— Mission: Cold Front 
"

MISSION - There will be no escape for the pathetic fools that dare to attack our base!

"



 

— Mission: Cold Front - Complete 
Related Pages
External Links
Gallery - Animated
Gallery
Images may have been resized to fit in the page. Click on an image to enlarge.
Video