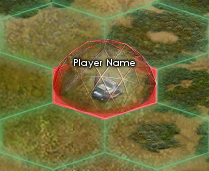 Damage Protection (DP) is a state in which a Player's Base can not be attacked by another player and is indicated by a dome covering.

All New War Commander Player Bases are automatically placed in Damage Protection for 7 Days.  This allows them to learn the game, upgrade their base and set their defenses before Enemy Players are able to attack.

Experienced Player's may be placed under Damaged Protection for a set period of time if their base sustains a certain amount of damage. This allows time for the player to make repairs to both buildings and Base Defense Units.

Duration of Protection
Depending if a player is new or how much damage a base has sustained will set the duration of the Damage Protection. These durations are as follows:
50% Damage --- 18 Hours of Protection
75% Damage --- 36 Hours of Protection
Warpath --- 4 hours of Protection
The Player can see how much time remains under Protection by the Count Down Clock in the upper right hand corner of their base.
Acts of War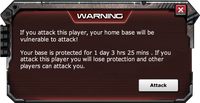 The following are considered Acts of War and will invalidate the Damage Protection before time expires allowing your base to be attacked.  These acts are :
Attacking another players Base.
Attacking another players Platoon 
Attacking a Deposit that is owned by another player.
Additional Facts
Current - Your base cannot be attacked while under damage protection. After damage protection expires, only players within 4 levels of you can attack your base. This restriction does not apply if your are level 30 or higher.
Infamy PreSeason - Your base can be attacked by anyone level 3 or higher, if you are yourself level 3 or higher.
Warpath - Your base can only be attacked by a certain player once.
Gallery
Images may have been resized to fit in the page. Click on an image to view actual size.
Gallery - Historical
Images may have been resized to fit in the page. Click on an image to view actual size.