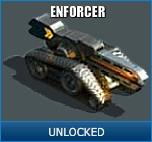 | | | | | | | |
| --- | --- | --- | --- | --- | --- | --- |
| Splash Damage | Space | Infantry | Vehicle | Air | Building | Map Speed |
| YES | 300 | OK | Good | Can't Hit | Best | 13.6 |
Stat Progression
Level
Upgrade Cost
Upgrade Time
Tech Center
Production Cost
Speed
Health
Range
Damage (DPS)
Metal
Oil
Thorium
Metal
Oil
1
N/A
N/A
N/A
Instant
9
335,700
450,000
1.0
11,000
295
2,500
2
3,937,500
3,543,800
0
4d
9
438,750
585,000
1.0
12,200
310
2,714
3
5,512,500
4,061,300
0
5d 4h 48m
10
570,600
760,500
1.0
13,400
330
2,929
4
7,717,500
6,945,800
0
6d 5h 46m
10
741,600
988,650
1.0
14,600
340
3,143
5
10,290,000
9,261,000
0
7d 11h 43m
10
963,900
1,285,200
1.0
15,800
350
3,922
6
14,406,000
12,965,400
800,000
5s
10
1,253,250
1,670,850
1.0
17,000
360
4,157
7
20,168,400
18,151,600
900,000
5s
10
1,629,450
2,172,150
1.0
18,200
365
4,392
8
27,010,000
24,309,000
1,000,000
5s
10
2,118,150
2,823,750
1.0
19,400
370
4,902
9
27,010,000
24,309,000
1,100,000
5s
10
2,812,500
3,937,500
1.0
21,485
375
5,373
10
27,010,000
24,309,000
1,200,000
5s
10
3,937,500
4,500,000
1.0
26,000
375
6,471
11
27,010,000
24,309,000
1,200,000
5s
10
3,937,500
4,500,000
1.0
28,600
375
7,059
12
27,010,000
24,309,000
2,000,000
5s
10
3,937,500
4,500,000
1.0
31,200
375
13
36,600,000
29,400,000
2,000,000
5s
10
3,937,500
4,500,000
1.0
375
Total
233,681,900
205,873,900
10,200,000
22d 22h 17m
Yellow indicates increase from previous level. Underline Indicates Max Value.
Build Times & Repair Information
Level 10 War Factory Build & Repair Times Per Enforcer Level
Level 1
Level 2
Level 3
Level 4
Level 5
Level 6
Level 7
Level 8
Level 9
Level 10+
Build
9h 54m
10h 18m
Repair
1h 58m
2h 03m
Level 10 War Factory Repair Costs Per Enforcer Level
Metal
67,500
Oil
90,000
Times for other War Factory Levels may be calculated by adding 5% for each level below Level 10.
Effective Enforcer Levels vs Turrets
Additional Info
Request For Information by Admin
Please Help with this page by clicking "Expand" to reveal a list of Needed Information and other Admin Requests.
-
-- PLEASE DO NOT EDIT THIS SECTION --
Below is a list of specific information being requested by the Admin to help complete this page.
Please post all replies in the Comment Section
Request for Needed Information :
Level 11 Damage stat. 
Build Times ( Found in the War Factory Build Stats ) and Repair Times with a Level 10 War Factory ( This is done by placing 1 Dead Enforcer in a platoon by itself and hovering cursor over the repair button ). See following example:


Request for Specific Screenshot or Pics :
Shots of the Stats for each Enforcer Level taken from the War Factory Build Screen like this. Doesn't matter the level of War Factory for these but if not Level 10 please specifiy what it is ( No cropping needed - we can do it )

Request for Answers to General Questions :
------
Whenever possible please provide screenshots of information. This is especially helpful when giving corrected information of data that has been requested to be verified.
------
Be Aware : Due to a Bug with the In-Game Stats on Upgade Screens Please only use Unit Stat Info from the Airfield, Barracks or War Factory. Only the the Upgrade Cost & Time should be taken from the Academy or Tech Center.
---
In-Game Quotes
"

Outfitted with high-powered, electromagnetic railgun technology, the Enforcer's projectile shreds through anything caught in its path.

"



 

— In-game description 
"

Outfitted with high-powered, electromagnetic railgun technology, the Enforcer's projectile shreds through anything caught in its path. Lightweight Thorium alloys allow a higher rate of fire.

"



 

— Level 10 description 
Gallery
Video
---
---
Riflemen • Valkyrie • Heavy Gunner • Mortar Team • Flamethrower • Attack Dog • Suicide Bomber • Sniper • Stinger • Shock Trooper • Hercules • Colossus • Vanguard • Gladiator • Viper • Medic (Retired) • Tech (Retired)
---
Jackrabbit • Rocket Buggy • Humvee • Rhino • Honey Badger • Razorback • Gatling Truck • Paladin • Shock Tank • Flak Tank • Suicide Truck • FAV • Laser Tank • Challenger • Hellfire • Mega Tank • Behemoth • Enforcer • Widowmaker • Crusader
---
Wing Drones • Copter Drones • Reaper Drone • Slayer Drone • Cobra • Thunderbolt • Warhawk • Raptor • Havoc • Kondor • Hellstorm • Halcyon • Spectre
---
Normal Zombie • Bomber Zombie • Juggernaut Zombie • Anti-Air Zombie • V2 Spotter • Chinook • R.U.B.I.
---