| | | | |
| --- | --- | --- | --- |
| Splash Damage | Infantry | Vehicle | Air |
| YES | Can't Hit | Can't Hit | Best |
Upgrade Progression
Level
Upgrade Cost
Upgrade Time
Defens
Lab
Production Cost
Production Time
ROF
Range
Damage (DPS)
Power Used
Metal
Oil
Thorium
Metal
Oil
Thorium
1
2,500,000
2,500,000
0
2d
5
625,000
625,000
0
5h 45m
50
320
952
300
2
5,000,000
5,000,000
0
3d
6
1,250,000
1,250,000
0
8h 38m
50
330
1,047
400
3
10,000,000
10,000,000
0
4d
7
2,500,000
2,500,000
0
11h 30m
50
340
1,142
500
4
15,000,000
15,000,000
0
30m
8
3,750,000
3,750,000
0
14h 24m
50
350
1,238
600
5
25,000,000
25,000,000
0
7d
10
6,250,000
5,000,000
0
20h 09m
50
360
1,333
700
6
27,000,000
27,000,000
800,000
5s
10
6,750,000
6,750,000
240,000
5s
50
400
1,466
700
7
29,250,000
29,250,000
1,000,000
5s
10
6,750,000
6,750,000
300,000
5s
50
400
1,600
700
8
5s
10
5s
50
480
Total
113,750,000
113,750,000
1,800,000
21d
Appearance Progression
Appearance Progression
Level 1
Level 2
Level 3
Level 4
Level 5
Level 6
Level 7
Level 8
Related Missions
STANDARD MISSION
Mission
Icon
Mission Description
Awards for Completion
Metal
Oil
Medals
Flak Attack
Unlock Flak Turret in Defense Lab
1,500,000
1,500,000
 0
Some Missions May Not Be Available Until The Completion Of Others.
Update History
Additional Facts
Flak is the Aerial equivalent of Splash Damage. Upon hitting a target an explosion is produced which will damage anything in close proximity to the point of impact.
The Flak Gun Turret is unable to target incoming Missiles including Hellfire Missiles from the Hellfire or Hellstorm and any Missile fired from the Missile Silo.
The Level 5 Flak Gun Turret is the only  Level 5 Turret that can outrange both the Level 10+ Cobra & Level 10+ Warhawk.
A Level 1 Hellstorm can outrange Level 5 of the Flak Gun Turret.  However, a Level 5 Hellstorm is required to outrange a Level 6 Flak Gun Turret.
The Flak Gun Turret very effective against Rotor wings such as the Cobra and Warhawk but they are much less effective against the fast moving Strafing Aircraft such as the Thunderbolt and Raptor.
In-Game Quotes
Click Expand to View Additional Quotes
"

Flak protects your airspace with clouds of shrapnel, easily bringing down groups of enemy aircraft.

"



 

— In-Game Description 
"

Aircraft flying through schrapnel clouds rarely return, Commander!

"



 

— Level 5 Message 
"

MISSION - Commander, if I slept, I'd sleep better if we had Flak Turrets defending our airspace. Don't you care about my peace of mind?

"



 

— Mission - Flak Attack 
Related Pages
External Links
Gallery
Video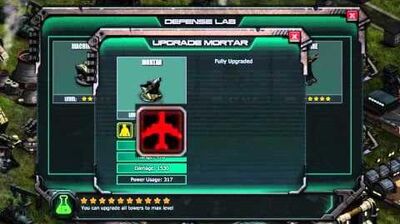 ---