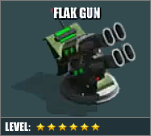 | | | | |
| --- | --- | --- | --- |
| Splash Damage |   Infantry   |   Vehicle   |       Air       |
| YES | CAN'T HIT | CAN'T HIT | Best |
Upgrade Progression
Level
Upgrade Cost
Upgrade Time
Def Lab
Production Cost
Production Time
ROF
Range
Damage (DPS)
Power Used
Metal
Oil
Thorium
Metal
Oil
Thorium
1
2,500,000
2,500,000
0
2d
5
625,000
625,000
0
5h 45m
50
320
952
300
2
5,000,000
5,000,000
0
3d
6
1,250,000
1,250,000
0
8h 38m
50
330
1,047
400
3
10,000,000
10,000,000
0
4d
7
2,500,000
2,500,000
0
11h 30m
50
340
1,142
500
4
15,000,000
15,000,000
0
5d
8
3,750,000
3,750,000
0
14h 24m
50
350
1,238
600
5
25,000,000
25,000,000
0
7d
10
6,250,000
5,000,000
0
20h 09m
50
360
1,333
700
6
27,000,000
27,000,000
800,000
5s
10
6,750,000
6,750,000
240,000
5s
50
400
1,466
700
Total
84,500,000
84,500,000
800,000
21d
| | | | | | |
| --- | --- | --- | --- | --- | --- |
| Level 1 | Level 2 | Level 3 | Level 4 | Level 5 | Level 6 |
| | | | | | |
Additional Facts
Flak is the Aerial equivalent of Splash Damage. Upon hitting a target an explosion is produced which will damage anything in close proximity to the point of impact.
The Flak Gun Turret is unable to target incoming Missiles including Hellfire Missiles from the Hellfire or Hellstorm and any Missile fired from the Missile Silo.
The Level 5 Flack Gun Turret is the only  Level 5 Turret that can outrange both the Level 10+ Cobra & Level 10+ Warhawk.
A Level 1 Hellstorm can outrange Level 5 of the Flak Gun Turret.  However, a Level 5 Hellstorm is required to outrange a Level 6 Flak Gun Turret.
The Flak Gun Turret very effective against Hovering Aircraft such as the Cobra and Hellstorm but they are much less effective against the fast moving Strafing Aircraft such as the Thunderbolt and Raptor.
The Level 6  Flak Turret was introduced in the Game Update of Nov. 13th 2013.
In-Game Quotes
"

Flak protects your airspace with clouds of shrapnel, easily bringing down groups of enemy aircraft.

"



 

— In-game description 
---
General
---
Resources
Power Plant • Metal Factory • Oil Pump • Metal Storage • Oil Storage • Thorium Vault
---
Military
Storage • Barracks • Radio Tower • Academy • War Factory • Tech Center • Airfield • Workshop • Aircraft Hangar
---
Defense
Defense Platform • Defense Lab • Missile Silo • Go-Go Bar • Bunker • Drone Silo • Mine Factory • Barricade
---
---
Individual Bunkers
Bunker • Stronghold • Watchtower
---
Turrets
Machine Gun Turret • Mortar Turret • Flak Gun Turret • Hellfire Turret • Laser Turret • Plasma Turret • Rocket Barrage Turret • Shock Turret • Cryo Cannon Turret • Napalm Turret
---