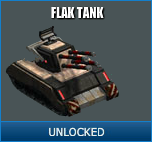 | | | | | | | |
| --- | --- | --- | --- | --- | --- | --- |
| Splash Damage | Space | Infantry | Vehicle | Air | Building | Map Speed |
| Yes | 100 | Can't Hit | Can't Hit | Best | Can't Hit | 1.1 |
Stat Progression
Level
Upgrade Cost
Upgrade Time
Tech Center
Production Cost
Speed
Health
Range
Damage (DPS)
Range vs Air +20%
Metal
Oil
Thorium
Metal
Oil
1
N/A
N/A
N/A
Instant
6
16,000
20,000
0.9
2,000
270
190
324
2
1,400,000
1,260,000
0
2d 12h 00m
?
20,800
26,000
0.9
2,050
295
286
354
3
1,960,000
1,764,000
0
3d 00h 00m
7
27,000
33,800
0.9
2,150
320
333
384
4
2,744,000
2,469,600
0
3d 14h 24m
7
35,200
44,000
0.9
2,250
327
381
392
5
3,841,600
3,457,400
0
4d 07h 41m
8
45,800
57,200
0.9
2,350
334
429
400
6
5,378,240
4,840,400
0
5d 04h 25m
8
59,600
74,400
0.9
2,450
340
476
408
7
7,529,540
6,776,600
0
6d 5h 18m
9
77,400
96,800
0.9
2,550
347
524
416
8
10,541,360
9,487,200
0
7d 11h 10m
9
100,600
125,800
0.9
2,650
354
571
424
9
14,757,900
13,282,100
0
8d 23h
10
125,000
150,000
0.9
2,750
360
645
432
10
20,661,060
18,595,000
400,000
5s
10
150,000
175,000
0.9
3,000
390
762
468
11
28,925,480
26,032,900
400,000
5s
10
150,000
175,000
0.9
3,300
390
846
468
12
1,200,000
5s
10
150,000
175,000
0.9
3,630
390
930
468
13
31,890,340
33,484,860
1,800,000
5s
10
150,000
175,000
0.9
3,900
390
990
468
14
31,890,340
33,484,860
1,800,000
5s
10
150,000
175,000
0.9
4,200
390
1,067
468
Total
129,629,520*
121,450,060*
5,600,000
41d 5h 58m
Yellow & Orange indicate increase from previous level. Underline Indicates Max Value.
Instant Upgrade Information
  Gold Cost for Instant Level Upgrades 
Level 1
Level 2
Level 3
Level 4
Level 5
Level 6
Level 7
Level 8
Level 9
Level 10
Level 11
Level 12
Level 13
Level 14
Level 15
TOTAL
N/A
 
 122
 
 
 
 
 
 
 
 
 
 
 
 
 
For More information on this see Gold.
Build & Repair Times
Level 10 War Factory Build & Repair Times Per Flak Tank Level
Level 1
Level 2
Level 3
Level 4
Level 5
Level 6
Level 7
Level 8
Level 9
Level 10+
Build
1h 6m
1h 6m
1h 20m
Repair
13m 13s
Level 10 War Factory Repair Costs Per Flak Tank Level
Metal
11,920
150,000
Oil
14,880
175,000
Times for other War Factory Levels may be calculated by adding 5% for each level below Level 10.
Additional Facts
The Flak Tank was introduced to the Event Shop during Operation: Rolling Thunder.
The Flak Tank was removed from the Event Shop at the conclusion of Operation: Floodgate.
The Flak Tank is unable to target incoming Missiles including Hellfire Missiles from the Hellfire or Hellstorm and any Missile fired from the Missile Silo.
The Flak Tank travels the width of the World Map ( 500 Hex's ) in approximately

9m 10s

giving it a Calculated Map Speed of 0.9 hps ( Hex Per Second ).
Keep your Flak Tanks away from walls because Level 10 Hellstorms players will aim at the walls and the Flak Tanks will be killed in the splash damage.
With the Standard 20% Range Increase versus Aircraft while Defending a Base the Flak Tank at different Levels can out range the following:
Flak type weapons can be devastating Hovering Aircraft such as the Cobra the and Hellstorm but they are much less effective against the fast moving Strafing Aircraft such as theThunderbolt and Raptor.
It can hit the Valkyrie and Elite Valkyrie. (The only Infantry Units it can hit.)
When firing from cover, the Flak Tank's shots does not leave a tracer which would give away it's position to an attacker.
When Attacking a Flak Tank with Air Units it is wise to spread them out so the attack in the Half Circle Formation ( see Pic in the Gallery ).  This will limit the number of Aircraft sustaining damage for the Flak Tank.
'Flak' is an acronym of the German words 'Flugzeug Abwehr Kanone' which means Anti-Aircraft Cannon.
Stinger or Flak Tank? Here are thoughts on it.
The Flak Tank closely resembles the Soviet ZSU-23/4 SPAAG, with one notable difference being a narrower turret.
In-Game Quotes
"

Flak Tanks exist for one purpose: the total annihilation of enemy aircraft. They fire explosive clouds of shrapnel that chew through clusters of enemy air units. Flak Tanks get a 20% range increase against aircraft.

"



 

— In-game description 
"

Refit with specialized armor designed to reduce damage from enemy aircraft the Flak Tank can pepper aircraft with reckless abandon. Flak Tanks get a 20% range increase against aircraft.

"



 

— In-game description 
"

This Flak Tank is capable of bringing down any plane in the sky!

"



 

— Unlocked post description on Facebook 
Animated Photo
Gallery
---
---