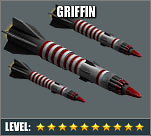 Stat Progression
Level
Upgrade Cost
Upgrade
Time
Defense Lab
Production Cost
Prod Time
Health
Blast Radius
Damage
Launch #

Travel Time

Cooldown Time
Metal
Oil
Thorium
Metal
Oil
Thor
1
13,000,000
13,000,000
0
2h
5
4,000,000
4,000,000
0
25m
29,700
100
8,000
1
16s
1m 0s
2
18,000,000
18,000,000
0
1d
6
5,000,000
5,000,000
0
25m
31,185
120
8,250
1
16s
1m 0s
3
25,000,000
25,000,000
0
7d
7
6,000,000
6,000,000
0
25m
32,670
130
8,500
1
16s
1m 0s
4
28,000,000
28,000,000
1,000,000
5s
8,000,000
8,000,000
100,000
5s
35,640
140
8,750
2
16s
1m 0s
5
30,000,000
30,000,000
1,500,000
5s
8
10,000,000
10,000,000
125,000
5s
38,610
150
9,000
3
16s
1m 0s
6
32,500,000
32,500,000
3,000,000
5s
10
10,000,000
10,000,000
200,000
5s
44,226
150
10,800
3
15s
55s
7
35,000,000
35,000,000
3,300,000
5s
10
10,000,000
10,000,000
200,000
5s
51,597
150
12,600
3
15s
50s
8
37,500,000
37,500,000
3,600,000
5s
10
10,000,000
10,000,000
250,000
5s
58,968
150
14,400
3
13s
45s
9
40,000,000
40,000,000
4,000,000
5s
10
10,000,000
10,000,000
300,000
5s
66,339
150
16,200
3
12s
40s
10
42,500,000
42,500,000
4,000,000
5s
10
10,000,000
10,000,000
300,000
5s
73,710
150
18,000
3
11s
35s
Total
Appearance Progression
Griffin Appearance Progression Per Level
Level 1
Level 2
Level 3
Level 4
Level 5
Level 6
Level 7
Level 8
Level 9
Level 10
Related Missions
STANDARD MISSION
Mission
Icon
Mission Description
Awards for Completion
Metal
Oil
Medals
Unlock The Griffin
Unlock the Griffin Missile In Defense Lab.
10,000
10,000
 0
Some Missions May Not Be Available Until The Completion Of Others.
Additional Facts
The Griffin Missile gained the ability to be Upgraded to Level 10 in the Game Update: May 14, 2014.
The Griffin Missile received a Health Increase to all 10 Levels in the Game Update: Jun 4, 2014.
The Griffin Missile must be unlocked prior to the Burner Missile unlocked.
The Griffin Missile splits into bomblets prior to impact causing huge damage.
The Griffin requires Thorium to produce and upgrade from level 4 onwards.
All Missile Silo Missiles received a across the board substantial increase in Health.  This occured in an unannounced Game change in April 2014.
In-Game Quotes
Click Expand to View Additional Quotes
"

The Hellfire-class Griffin delivers a collective blast from multiple warheads across a large target area.

"



 

— In-Game Description 
"

The Hellfire-class Griffin delivers a collective blast from multiple warheads across a large target area. Upgrading with thorium drastically reduces the production time and adds an extra missile per thorium level.

"



 

— Level 4 Description 
"

SPLIT THE SKIES - It's horror from the heavens!

"



 

— R.U.B.I (Level 5 Griffin) 
"

Nothing like terror from a birdseye view!

"



 

— Posted on Facebook (Level 5 Griffin) 
"

The Griffin Missile is the jack-of-all-trades tool for a versatile Commander. Unlock it now in the Defense Lab.

"



 

— R.U.B.I. - Mission 
Related Pages
External Links
Animated Photo
Gallery
Video
---
Griffin • Burner • Tomahawk • Skybolt • Shock • Corrosion • Deadeye • Peacekeeper
---
Missile Related Pages
---