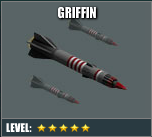 | | | |
| --- | --- | --- |
|   Travel Time      | Space | Cooldown Time |
| 16 Seconds | 100 | 1m 00s |
Stat Progression
Level
Upgrade Cost
Upgrade
Time
Defense Lab
Production Cost
Prod Time
Health
Blast Radius
Damage
Launch #
Metal
Oil
Thorium
Metal
Oil
Thor
1
13,000,000
13,000,000
0
2h
5
4,000,000
4,000,000
0
24m
22,500
100
8,000
1
2
18,000,000
18,000,000
0
1d
6
5,000,000
5,000,000
0
24m
23,625
120
8,250
1
3
25,000,000
25,000,000
0
7d
7
6,000,000
6,000,000
0
24m
24,750
130
8,500
1
4
28,000,000
28,000,000
1,000,000
5s
9
8,000,000
8,000,000
100,000
5s
27,000
140
8,750
2
5
30,000,000
30,000,000
1,500,000
5s
10
10,000,000
10,000,000
125,000
5s
29,250
150
9,000
3
Total
114,000,000
114,000,000
2,500,000
8d 2h
Related Mission(s)
Mission
Icon

__________

Mission Description

__________

Awards for Completion
Metal
Oil
Medals
Unlock Griffin
Unlock the Giffin Missile In Defense Lab.
10,000
10,000
 0
Some Missions May Not Be Available Until The Completion Of Others.
Known Issues
Hit Expand to View This Section
Listed here are bugs that have been identified with this Unit or Feature. Once fixed each issue will be moved to Resolved.
Existing Known Bugs :
Resolved Bugs :
Forum Discussion Links :
Additional Facts
The Griffin Missile splits into bomblets that can cause huge damage, similar to the variant of the Hellfire missile fired by the Elite Hellfire mobile launcher and the Thorium-level Hellstorm.
Like the other missiles, the Griffin requires Thorium to produce and upgrade from level 4 onwards.
Thorium produced Missiles levels launch mutiple Missiles at a time with a maximum of 3 at level 5. ( See Table ).
The Griffin's namesake is most probably the real-world AGM-176 Griffin missile system, developed by Raytheon for the US military.
In-Game Quotes
"

The Hellfire-class Griffin delivers a collective blast from multiple warheads across a large target area.

"



 

— In-game description 
"

The Hellfire-class Griffin delivers a collective blast from multiple warheads across a large target area. Upgrading with thorium drastically reduces the production time and adds an extra missile per thorium level.

"



 

— Level 4 Description 
"

SPLIT THE SKIES - It's horror from the heavens!

"



 

— R.U.B.I (Level 5 Griffin) 
"

Nothing like terror from a birdseye view!

"



 

— Posted on Facebook (Level 5 Griffin) 
"

The Griffin Missile is the jack-of-all-trades tool for a versatile Commander. Unlock it now in the Defense Lab.

"



 

— R.U.B.I. - Mission 
Animated Photo
Gallery
Video
---
Griffin • Burner • Tomahawk • Skybolt • Shock • Corrosion • Deadeye • Peacekeeper
---
Missile Related Pages
---