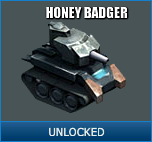 | | | | | | | |
| --- | --- | --- | --- | --- | --- | --- |
| Splash Damage | Space | Infantry | Vehicle | Air | Building | Map Speed |
| Yes | 50 | Poor | Best | Can't Hit | OK | 27.3 |
Upgrade Progression
Level
Upgrade Cost
Upgrade Time
Tech Center Level
Production Cost
Speed
Health
Range
Damage (DPS)
Metal
Oil
Thorium
Metal
Oil
1
Free
Free
0
None
3
4,000
5,000
1.9
700
170
115
2
75,000
67,500
0
4h 0m
3
5,200
6,750
1.9
763
185
248
3
100,000
90,000
0
5h 12m
4
6.760
9.122
1.9
820
200
323
4
600,000
500,000
0
14h 39m
1.9
880
215
398
5
1,000,000
900,000
0
1d 9h 20m
60,000
65,000
1.9
940
230
473
6
2,881,200
2,539,080
0
1d 19h 8m
111,400
148,520
1.9
1,000
240
548
7
4,033,680
3,630,320
0
2d 3h 45m
144,840
193,080
1.9
1,060
250
623
8
4,861,800
4,402,000
0
2d 14h 6m
1.9
1,120
260
698
9
5,402,000
4,861,800
0
2d 14h 6m
200,000
300,000
1.9
1,210
276
808
10
5,402,000
4,861,800
300,000
5s
8
220,000
320,000
1.9
1,400
300
1,038
11
5,402,000
4,861,800
300,000
5s
8
220,000
320,000
1.9
1,540
300
1,142
12
400,000
5s
10
220,000
320,000
1.9
1,680
300
1,246
13
9,129,380
8,216,442
600,000
5s
10
220,000
320,000
1.9
300
1,350
14
5s
10
220,000
320,000
1.9
300
Total
11d 12h 16m
Yellow indicates increase from previous level. Underline Indicates Max Value.
Build Times & Repair Information
Level 10 War Factory Build & Repair Times Per Honey Badger Level
Level 1
Level 2
Level 3
Level 4
Level 5
Level 6
Level 7
Level 8
Level 9
Level 10+
Build
53m 20s*
36m 40s
36m 40s
Repair
7m 21s
7m 21s
Level 10 War Factory Repair Costs Per Honey Badger Level
Metal
12,000
Oil
13,000
Times for other War Factory Levels may be calculated by adding 5% for each level below Level 10.
Level 1 build time is for a level 5 War Factory
        Name        
Icon
   Class   
   Level   
Description
Time of Effect
Thorium to Extend
Road Rally
Attack
Uncommon
5 Rhino, 5 Humvee, 5 Honey Badgers join your attack after you deploy ground Units.
1h
100,000
Brock N' Roll
Defensive
Common
8 Mercenary Honey Badgers deploy when your Base is under attack.
12h
50,000
More Information and a the Full List of Ops available here: Special Ops
Additional Facts
The Honey Badger was introduced to the Event Shop during Operation: Rolling Thunder.
The Honey Badger  is Awarded for Completion of Operation: Badger Run
All new players have the chance to complete Operation: Badger Run and receive the Honey Badger.  However if they fail to do so the Honey Badger is also available from the Event Shop.
At 3,500 xp the Honey Badger requires less Event XP then any other vehicle in the Event Shop.
The Honey Badger travels the width of the World Map ( 500 Hex's ) in approximately

4m 37s

giving it a Calculated Map Speed of 1.8 hps ( Hex Per Second ).
The Honey Badger has a Calculated Map Speed of 1.8 hps which ties it with the Rocket Buggy and Humvee for the Fastest Map Scout Vehicle.
They are really fast and maneuverable giving them the ability to go around Mega Tanks and destroy them easily (as shown in video)
Honey Badgers are less effective against Elite Mega Tanks because of its increased turn rate.
Starting at Level 5 the Honey Badger does more damage than Rhinos, however they have less than half the health of a Rhino.
The Honey Badger at Level 10 receives a "Much Higher Turn Speed", however the overall speed remains the same.
Players will receive a message "Honey Badger Don't Give a S%!t!" upon upgrading them to Level 10.
Place Honey Badgers on the outskirts of your base to swoop in and destroy enemy tanks at will!
This unit can be found on Road rally and Brock'n'roll special ops.
In-Game Quotes
"

The speedy Honey Badger outflanks and assaults other tanks at close range with no regard for any danger it may be in.

"



 

— In-game description 
"

The Honey Badger uses speed and maneuverability as an advantage to outclass larger tanks, turning much faster when compared to other tanks ensures this unit will never be in one place for long.

"



 

— Level 10 Description 
Animated Photo
Gallery
Slideshow
Video
---
---
Riflemen • Valkyrie • Heavy Gunner • Mortar Team • Flamethrower • Attack Dog • Suicide Bomber • Sniper • Stinger • Shock Trooper • Hercules • Colossus • Vanguard • Gladiator • Viper • Medic (Retired) • Tech (Retired)
---
Jackrabbit • Rocket Buggy • Humvee • Rhino • Honey Badger • Razorback • Gatling Truck • Paladin • Shock Tank • Flak Tank • Suicide Truck • FAV • Laser Tank • Challenger • Hellfire • Mega Tank • Behemoth • Enforcer • Widowmaker • Crusader • Hover Tank
---
Wing Drones • Copter Drones • Reaper Drone • Slayer Drone • Cobra • Thunderbolt • Warhawk • Raptor • Havoc • Kondor • Hellstorm • Halcyon • Spectre • Titan
---
Normal Zombie • Bomber Zombie • Juggernaut Zombie • Anti-Air Zombie • V2 Spotter • Chinook • R.U.B.I.
---