T • C
   ATTENTION : ADDITIONAL WORK REQUIRED !   

This Article may not meet WCWikia's Standards and may contain Incomplete or Missing Information.
You can help by Expanding this Article.
---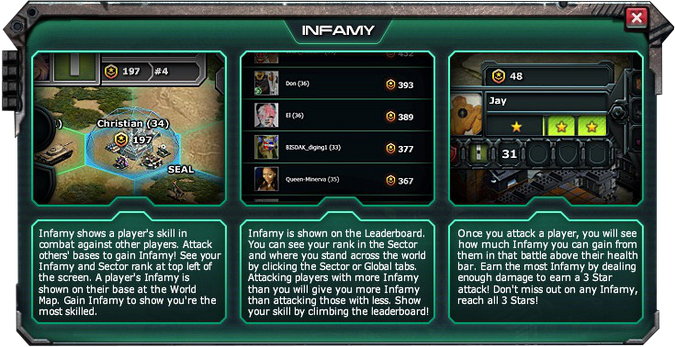 General Information
Acquiring & Loosing Infamy
Displaying Infamy
Infamy Uses
Update History
Listed in Reverse Chronological Order -- Click Expand to View Earliest Updates
Additional Facts
Trivia
Quotes
Click Expand to View Additional Quotes
"

Introducing Infamy – your chance to prove you're the best on the battlefield! Attack other players' bases to earn Infamy. Add or subtract from your tally by winning or losing player battles, and head to the Leaderboard to see how you stack up!

"



 

— Kixeye 
"

Infamy is live, Commander! Remember - win 1, 2, or 3 stars by doing 50%, 75%, or 100% damage to the base you're attacking. Best of luck, Commander!

"



 

— Kixeye 
Related Pages
External Links
Gallery
Images may have been resized to fit in the page. Click on an image to enlarge.
Video
01:36

War Commander Infamy-0
Ad blocker interference detected!
Wikia is a free-to-use site that makes money from advertising. We have a modified experience for viewers using ad blockers

Wikia is not accessible if you've made further modifications. Remove the custom ad blocker rule(s) and the page will load as expected.