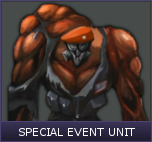 CLASS
UPGRADE BUILDING
PRODUCTION METHOD
Special  •  Zombie
N / A
N / A
SPLASH DAMAGE
SPACE
INFANTRY
VEHICLE
AIR
BUILDING
MAP SPEED
NO
N / A
BEST
BEST
CAN'T HIT
BEST
N / A
NON PLAYER CONTROLLED ( NPC ) UNIT
This Unit May Not Be Unlocked By The Player
( T ) • ( C )
  STATUS EFFECT WEAPON : PLAGUE  
Infected Buildings Spawn Enemy Zombie Last Stand Defenders Upon Destruction
General Zombie Information
Zombies are Non-Player Controlled ( NPC ) Units that appear as the antagonists in occasional Special Events and various Special Rogue Bases.
Key Features
ATTACK

 :

The Juggernaut Zombie produces the Status Effect : Plague ().
The Juggernaut Zombie does High Damage.

DEFENSE

 :

The Juggernaut Zombie has relatively High Health.
The Juggernaut Zombie is weak to Explosives.
The Juggernaut Zombie is susceptible to producing the Status Effect: Napalm ().
The Juggernaut Zombie may be stunned by weapons producing the Status Effect: Concussion ().
Appearance History
Additional Information
The Juggernaut Zombie ...
Trivia
The Juggernaut Zombie was created by Zachariah Kane, leader of the Kane's Forces Rogue Faction.
The Juggernaut Zombie first appeared in Operation: Undead Harvest ( Oct 26, 2012 ).
The Juggernaut Zombie moves on "All Fours" like a Gorilla.
They appears to have a American Flag on their chest and a orange beret on their head.

The 

Juggernaut Zombie can be controlled by the player in Operation: Death From Below by destroying the Zombie Lab.
Gallery - Animated
Gallery
Images may have been resized to fit in the page. Click on an image to enlarge.
Video
For more videos on this topic see : Additional Video
01:52

War Commander Operation Undead Harvest
Ad blocker interference detected!
Wikia is a free-to-use site that makes money from advertising. We have a modified experience for viewers using ad blockers

Wikia is not accessible if you've made further modifications. Remove the custom ad blocker rule(s) and the page will load as expected.