Machine Gun Turret
Comments

88
539pages on
this wiki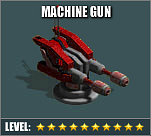 | | | | |
| --- | --- | --- | --- |
| Splash Damage | Infantry | Vehicle | Air |
| NO | Good | OK | Good |
Upgrade Progression
Level
Upgrade Cost
Upgrade Time
Defense Lab
Production Cost
Setting Time
ROF
Range
Damage (DPS)
Power Used
Metal
Oil
Thorium
Metal
Oil
Thorium
1
N/A
N/A
N/A
N/A
N/A
500
500
0
03s
500
305
613
25
2
75,000
60,840
0
5m
2
10,000
10,000
0
500
315
813
100
3
468,750
411,278
0
3
117,188
102,820
0
10m
500
325
1,080
200
4
2,929,688
2,780,240
0
30m
4
732,422
695,060
0
30m
500
335
1,426
300
5
18,310,550
18,794,422
0
1h
5
4,577,638
4,698,606
0
1h 0m
500
345
1,880
400
6
27,000,000
27,000,000
800,000
5s
6
6,750,000
6,750,000
240,000
5s
500
380
2,066
400
7
29,250,000
29,250,000
1,000,000
5s
7,312,500
7,312,500
300,000
5s
500
380
2,253
400
8
58,500,000
58,500,000
2,000,000
5s
5s
500
440
2,440
400
Total
136,533,988
136,796,780
3,800,000
0d 0h
Appearance Progression
Appearance Progression
Level 1
Level 2
Level 3
Level 4
Level 5
Level 6
Level 7
Level 8
Related Missions
STANDARD MISSION
Mission
Icon
Mission Description
Completion Awards
Images
Metal
Oil
Pre
Post
Riddle Them With Shells
Equip a Machine Gun Turret
2,500
2,500
X
X
Some Missions May Not Be Available Until The Completion Of Others.
Update History
Listed in Reverse Chronological Order -- Click Expand to View Earliest Updates
Additional Info
In-Game Quotes
"

The general purpose Machine gun is equally capable of bringing the pain to ground and air units.

"



 

— In-Game Description 
Related Pages
External Links
Animated Gallery
Gallery
Images may have been resized to fit in the page. Click to enlarge.
---