Arms Cache
Template:Malachi Boss Base-Arms Cache - C31
Current Layouts
MALACHI BOSS BASE LAYOUTS  ( EDIT )
LEVEL
LAYOUT
LAYOUT INFO




Level 80




 Date Valid :

Dec 23, 2016

 Payout :
  Boss Arms Cache
 Availability :
Scheduled Spawns
 Special Defense :
See Below  

•

  
 Competed When :
Malachi Boss Destroyed
 Background :
Cave
Click a

Layout Image

above to see

FULL SIZE

version  

•

  Click icon to see FULL SIZE version with Advanced Scout Info
Boss Unit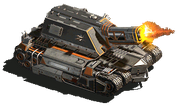 Base Defense Notes
Level 80 - Layout Defense Notes

 :
Spawn Schedule
Malachi Boss Base are available on the World Map for a short periods of time each spawn period.

Spawn Periods are on the following days of the week :

Level 80 Spawn Days

 :

Sundays Only
Limited Attack
Players must destroy the Malachi Boss Unit within set amount of time.

Time Limited to

15 Minutes

.
The Timer starts with the first attack on the Base.

Failure to do so in the allotted time will cause the Base to completely

RESET

.
Update History
Listed in Reverse Chronological Order -- Click Expand to View Earliest Updates
Additional Facts
The Malachi Boss Base is a Shadow Ops Target Base for the Sentinels Rogue Faction.
The Malachi Boss Base may also be completed without an active Shadow Op phase.

A Boss Arms Cache ( ) will be awarded for its completion.

The Malachi Boss Base awards Elite Juggernaut Parts in the amounts shown below per victory each week ( REF ) :

1st Victory =

4 Parts

2nd Victory =

3 Parts

3rd Victory =

2 Parts

4th Victory =

1 Part

5th Victory and up =

1 Part

The above pattern is RESET every week on the spawn date of the Malachi Boss Base.
Trivia
Related Pages
Firsts & Records
External Links
Gallery - World Map Icons
Gallery
Images may have been resized to fit in the page. Click on an image to enlarge.
Gallery - Historical
Images may have been resized to fit in the page. Click on an image to enlarge.
Video
For more videos on this topic see : Additional Video
Ad blocker interference detected!
Wikia is a free-to-use site that makes money from advertising. We have a modified experience for viewers using ad blockers

Wikia is not accessible if you've made further modifications. Remove the custom ad blocker rule(s) and the page will load as expected.