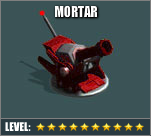 | | | | |
| --- | --- | --- | --- |
| Splash Damage | Infantry | Vehicle | Air |
| YES | OK | Good | Can't Hit |
Upgrade Progression
Level
Upgrade Cost
Upgrade Time
Defens
Lab
Production Cost
Production Time
ROF
Range
Damage (DPS)
Power Used
Metal
Oil
Thorium
Metal
Oil
Thorium
1
1,000
1,000
0
N/A
1
500
500
0
03s
12
364
546
25
2
75,000
60,840
0
36m
2
10,000
10,000
0
7m 30s
12
394
760
100
3
468,750
411,278
0
2h 24m
3
117,188
102,820
0
1h 48m
12
426
1,053
200
4
2,929,688
2,780,240
0
9h 36m
4
732,422
695,060
0
7h 12m
12
461
1,446
300
5
18,310,550
18,794,422
0
1d 14h 24m
5
4,577,638
4,698,606
0
13h 53m
12
498
2,040
400
6
27,000,000
27,000,000
800,000
05s
6
6,750,000
6,750,000
240,000
05s
12
498
2,244
400
7
29,250,000
29,250,000
1,000,000
05s
6,750,000
6,750,000
300,000
05s
12
498
2,448
400
8
58,50,000
58,50,000
2,000,000
05s
13,500,000
13,500,000
600,000
05s
12
550
2,652
400
Total
79,034,988
78,297,780
3,800,000
2d 3h 00m
Appearance Progression
Appearance Progression
Level 1
Level 2
Level 3
Level 4
Level 5
Level 6
Level 7
Level 8
Related Missions
STANDARD MISSION
Mission
Icon
Mission Description
Awards for Completion
Metal
Oil
Medals
Death from Above
Equip a Mortar Turret
2,500
2,500
 0
Some Missions May Not Be Available Until The Completion Of Others.
Update History
Additional Facts
The Mortar Turret was originally called the Mortar Tower.
Upgrading the Mortar Turret in the Defense Lab does not change the level of Mortar Turrets already placed on a Defense Platform.
The Mortar Turret fires a volley of 4 mortar shells per shot.
The Mortar Turret can miss its target so they can be Baited with a fast moving Unit.
The Mortar Turret fires in an arc similar to the Mortar Team.
The Level 3+ Mortar Turret will outrange all Infantry. 
In-Game Quotes
"

Mortars fire explosives into the air and rain down destruction on any attackers caught in the blast.

"



 

— In-game description 
Related Pages
External Links
Animated Gallery
Gallery
Images have been resized to fit in the page. Click to enlarge.