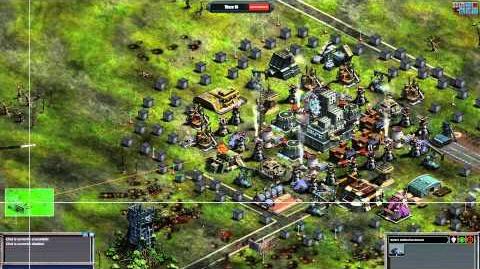 "

"Your theft of our technology will not go unpunished. Prepare yourself and your defenses."

"



 

— Signed HvK. 
Players are required to defend their base during this event. Enemies come in waves, complete a wave and the player will be rewarded with exp to exchange for prizes.
Waves become progressively harder, and consist of all units except attack dog . Every 10 waves, there is a boss wave, during this wave the attacking force is considerably larger. Boss waves features V2 spotters which call in large rockets. When players reach wave 50, spotters spawn every wave.
The Hellstorm Helicopter appears to be a replica (or salvaged) model of the RAH-66 Comanche, a stealth attack helicopter that underwent research and initial testing in the 80's and early 90's. The helicopter proved useful, but, like the Spartan-I's, was too costly for what it did. Instead, the Apache took its role.
Heinrich von Kreuger has taken this design, and modified it so it carries a single large hellfire rocket under the skids. It seems to be an airborne version of his Hellfire Tank, but only further reconaissance, and the battle itself, will reveal its full potential.
Event will run from 24th Jan to 30th Jan 2013, Good luck Commanders!
Wave exp gain
Edit
| Wave No. | Exp |
| --- | --- |
| 1-9 | 325 each |
| 10 | 1000 |
| 11-19 | 400 each |
| 20 | 1100 |
| 21-29 | 725 each |
| 30 | 1100 |
| 31-39 | 900 each |
| 40 | 1200 |
| 41-49 | 900 each |
| 50+ | 1200 each |
New prizes: 
Edit
1 & 4. Operation:Rogue Assualt • 2.Operation: Red Storm • 3.Operation: Warhawk • 5.Operation: Hellfire • 6.Operation: Red Sky
7.Operation: Rolling Thunder • 8.Operation: Undead Harvest • 9.Operation: Shockwave
10.Operation: Hellstorm • 11Operation: Red Swarm • Operation: Badger Run