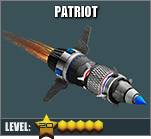 SPLASH DAMAGE
INFANTRY
VEHICLE
AIRCRAFT
YES
CAN'T HIT
CAN'T HIT
GOOD
Stat Progression
Level
Upgrade Cost
Upgrade
Time
Defense
Lab
Set Rocket Cost
Set
Time
ROF
Range
Damage
(DPS)
Metal
Oil
Thorium
Metal
Oil
Thorium
1
5,600,000
5,600,000
1,225,000
5s
1
700,000
700,000
70,000
5s
50
360
10,000
2
8,400,000
8,400,000
1,400,000
5s
1,400,000
1,400,000
140,000
5s
50
370
11,066
3
11,200,000
11,200,000
1,575,000
5s
2,100,000
2,100,000
210,000
5s
50
380
12,133
4
14,000,000
14,000,000
1,750,000
5s
2,800,000
2,800,000
280,000
5s
50
390
13,200
5
16,800,000
16,800,000
1,925,000
5s
3,500,000
3,500,000
350,000
5s
50
400
14,266
6
19,600,000
19,600,000
2,100,000
5s
4,200,000
4,200,000
420,000
5s
50
410
15,333
7
22,400,000
22,400,000
2,275,000
5s
4,900,000
4,900,000
490,000
5s
50
460
16,400
8
25,200,000
25,200,000
2,450,000
5s
5,600,000
5,600,000
560,000
5s
50
500
17,466
9
28,000,000
28,000,000
2,625,000
5s
6,300,000
6,300,000
630,000
5s
50
550
18,533
10
30,800,000
30,800,000
2,800,000
5s
7,000,000
7,000,000
700,000
5s
50
600
20,000
11
37,000,000
37,000,000
0
20h
7,700,000
7,700,000
770,000
5s
50
620
22,380
12
44,000,000
44,000,000
0
8,400,000
8,400,000
840,000
5s
50
640
24,285
13
51,000,000
51,000,000
0
9,100,000
9,100,000
910,000
5s
50
660
26,190
14
58,000,000
58,000,000
0
9,800,000
9,800,000
980,000
5s
50
680
28,095
15
65,000,000
65,000,000
0
1d
10,500,000
10,500,000
1,050,000
5s
50
700
30,000
16
5s
50
17
5s
50
18
5s
50
19
4d
5s
50
20
5s
50
Total
488,000,000
488,000,000
23,000,000
Update History
Listed in Reverse Chronological Order -- Click [ Expand ] to View Earliest Updates
Additional Facts
The Patriot Rocket is only able to Target and Fire upon
The Patriot Rocket cost 5,000 Thorium ( ) per rocket to Load in the Rocket Silo.
Trivia
Quotes
"

The Patriot delivers devastating damage to a target aircraft. Deals damage in the surrounding area upon impact.

"



 

— In-game description 
Related Pages
External Links
Gallery
Images may have been resized to fit in the page. Click on an image to enlarge.