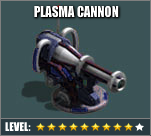 SPLASH DAMAGE
INFANTRY
VEHICLE
AIR
NO
POOR
BEST
CAN'T HIT
Upgrade Progression
LEVEL
UPGRADE COST
UPGRADE
TIME
DEFENSE
LAB
PRODUCTION COST
SETTING
TIME
ROF
RANGE
DAMAGE
( DPS )
POWER
USED
Metal
Oil
Thorium
Metal
Oil
Thorium
1
N / A
N / A
N / A
N / A
6
1,250,000
1,250,000
0
8
355
2,439
600
2
10,000,000
10,000,000
0
10m
7
2,500,000
2,500,000
0
8
379
2,764
700
3
15,000,000
15,000,000
0
1h
8
3,375,000
3,750,000
0
1h
8
410
3,114
800
4
20,000,000
20,000,000
0
4h
9
5,000,000
5,000,000
0
4h
8
443
3,442
900
5
25,000,000
20,000,000
0
10h
10
6,250,000
5,000,000
0
10h
8
479
3,934
1,000
6
40,000,000
40,000,000
1,500,000
5s
10
10,000,000
10,000,000
450,000
5s
8
479
4,327
1,000
7
40,000,000
40,000,000
2,000,000
5s
10
10,000,000
10,000,000
600,000
5s
8
479
4,721
1,000
8
80,000,000
80,000,000
4,000,000
5s
10
20,000,000
20,000,000
1,200,000
5s
12
530
7,609
1,000
TOTAL
230,000,000
225,000,000
7,500,000
15h 10m
Appearance Progression
APPEARANCE PROGRESSION
LEVEL 1
LEVEL 2
LEVEL 3
LEVEL 4
LEVEL 5
LEVEL 6
LEVEL 7
LEVEL 8
History of Availability
Update History
Listed in Reverse Chronological Order -- Click Expand to View Earliest Updates
Additional Facts
The Plasma Cannon Turret must be placed on a Defense Platform.

Upgrading the Plasma Cannon Turret in the Defense Lab does not change the level of Plasma Cannon Turrets already placed on a Defense Platform.

The Plasma Cannon Turret can only target and fire upon a single enemy at a time.
Trivia
The Plasma Cannon Turret was originally named the Plasma Turret.
The Plasma Cannon Turret is the Advanced Defense Turret Plasma Beam as mentioned on unlock post.
Pixel Sheet Code : Tower 5
Quotes
Click Expand to View Additional Quotes
"

Fires a slow charging, high energy plasma shot, bringing long range annihilation to a single target.

"



 

— In-Game Description 
"

Full power and ready to electrify!

"



 

— Level 5 Facebook Message 
"

This high energy plasma shot brings destruction to anything in its path!

"



 

— Unlocked Facebook Message 
Related Pages
Gallery
Images may have been resized to fit in the page. Click on an image to enlarge.