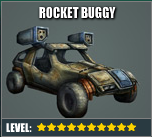 "

Fleet and aiming to kill, Rocket Buggy's are light strike vehicles equiped with Hydra 70 rocket launchers.

"



 

— In-game description 
"

Utilizing Thorium technology to push the engine of the Rocket Buggy to new speeds has resulted in a faster hit and run that is sure to stir up chaos in the enemy lines.

"



 

— Level 10 description 
Splash Damage
Space
Infantry
Vehicle
Air
Building
Yes
40
Poor
good
Can't hit
OK
 
Level
Upgrade Cost
Production Cost
Upgrade Time
Tech Center
Speed
Health
Range
Damage (DPS)
Oil
Metal
Thorium
Oil
Metal
1
19,200
24,000
0
1,600
900
2h
1
1.8
400
275
150
2
26,880
33,600
0
2,160
1,080
1h
2
1.8
445
287
183
3
50,000
56,250
0
2,916
1,296
1h 18m
2
1.8
490
300
192
4
75,900
84,380
0
3,936
1,556
1h 41m
3
1.8
535
310
200
5
126,570
113,900
0
2h 11m
3
1.8
580
320
217
6
189,860
170,900
0
7,714
2,240
2h 50m
4
1.8
625
327
233
7
284,790
256,300
0
9,686
2,688
3h 41m
4
1.8
670
334
250
8
427,190
384,500
0
13,076
3,224
4h 47m
5
1.8
715
341
267
9
576,700
640,790
0
20,000
6,000
6h 13m
7
1.8
800
350
300
10
865,100
961,190
200,000
10,000
25,000
5s
8
2.1
900
350
317
Yellow values show an improvement of a stat since the previous level.
Underlined values show the max value for each stat.
Total Time: 24h 41m.
Total Metal: 2,642,190
Total Oil: 2,725,810
Unit Voice
Edit
Selecting
Edit
It's going to be a bumpy ride.
Attacking
Edit
Fun Facts
Edit
Rocket Buggy was used to be called  the "Light Strike vehicle".
Its weapon, the hydra rocket, is a kind of rocket which is equipped by helicopters in reality.
Because of this vehicle's fast speed, this makes it very good for luring hostile units into a trap.
Riflemen • Heavy Gunner • Mortar Team • Flamethrower • Attack Dog • Suicide Bomber • Sniper • Stinger • Shock Trooper • Hercules • Colossus • Vanguard • Gladiator • Medic • Tech
---
Jackrabbit • Rocket Buggy • Humvee • Rhino • Honey Badger • Razorback • Gatling Truck • Paladin • Shock Tank • Flak Tank • Suicide Truck • FAV • Laser Tank • Challenger • Hellfire • Mega Tank • Behemoth
---
Wing Drones • Copter Drones • Reaper Drone • Slayer Drone • Cobra • Thunderbolt • Warhawk • Raptor • Havoc • Kondor • Hellstorm
---
Normal Zombie • Bomber Zombie • Juggernaut Zombie • V2 Spotter
---
Elite Units
Elite Riflemen • Elite Heavy Gunner • Elite Gladiator • Elite Humvee • Elite Rhino • Elite Suicide Truck • Elite Gatling Truck • Elite Shock Tank • Elite Laser Tank • Elite Hellfire • Elite Mega Tank • Elite Warhawk