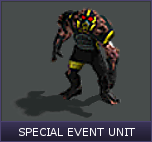 CLASS
UPGRADE METHOD
PRODUCTION METHOD
Special  •  Zombie
None
Per-Build
DAMAGE TYPE
RELOAD
CLIP
DAM / SEC
FIRE RATE
TARGETS
SPLASH
SUSTAIN
N / A
N / A
N / A
N / A
YES
UNLOCK REQUIREMENTS
SIZE
UNLOCK RESTRICTIONS
None Or Unknown
100
None Or Unknown
SINGLE DEPLOYMENT UNIT
Single deployment units are Single Use - once deployed they cannot be used again (even if they survive battle).
( T ) • ( C )
  STATUS EFFECT WEAPON : PLAGUE  
Infected Buildings Spawn Enemy Zombie Last Stand Defenders Upon Destruction
Stat Progression
Level
Upgrade Cost
Upgrade
Time
Per-Build
Production Cost
Speed
Health
Range
Damage
(DPS)
Metal
Oil
Thorium
Metal / Oil
Thorium
1
N / A
N / A
N / A
N / A
N / A
N / A
3.5
438,000
100
6,520
General Zombie Information
Key Features
ATTACK

 :

The Runner Zombie produces the Status Effect : Plague ().
The Runner Zombie does ? Damage.
The Runner Zombie is Fast moving.

DEFENSE

 :

The Runner Zombie has ? Health.
The Runner Zombie is susceptible to Flame Weapons.
The Runner Zombie is susceptible to producing the Status Effect: Napalm ().
The Runner Zombie as of Zombie Invasion(October 13, 2016) can not longer be stunned by Concussion (). 
Appearance History
Additional Information
The Runner Zombie does

NOT

have the ability to Cloak itself.
Trivia
Quotes
"

These infected special forces zombies are quick and can take some damage.

"



 

— Unit Unlocked 
Gallery
Images may have been resized to fit in the page. Click on an image to enlarge.
Video
For more videos on this topic see : Zombie Runner Additional Video
15:14

Onslaught Waves 30-50
Ad blocker interference detected!
Wikia is a free-to-use site that makes money from advertising. We have a modified experience for viewers using ad blockers

Wikia is not accessible if you've made further modifications. Remove the custom ad blocker rule(s) and the page will load as expected.