T • C
   ATTENTION : ADDITIONAL WORK REQUIRED !   

This Article may not meet WCWikia's Standards and may contain Incomplete or Missing Information.
You can help by Expanding this Article.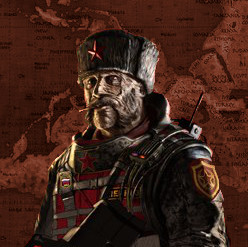 COMING SOON
Please post any info you have knowledge of and might like to see on this page in the comments, Thinks like Fictional History ( Kixeyes backstory ) or Game history of this faction.
PICTURES ARE VERY GOOD!! Especially if they support your history.
NOTES:
Leader of the Sickle Syndicate
Father of Sasha Kalashnikov leader of the Red Lokust.
Temporarily Lost control of the Sickle Syndicate in a coup by Sasha Kalashnikov
Spared Sasha Kalashnikov life when regaining control of the Sickle Syndicate but exiled her.
Is a former Mafia Boss ( Ref )
Gallery
Images may have been resized to fit in the page. Click to enlarge.
Ad blocker interference detected!
Wikia is a free-to-use site that makes money from advertising. We have a modified experience for viewers using ad blockers

Wikia is not accessible if you've made further modifications. Remove the custom ad blocker rule(s) and the page will load as expected.