---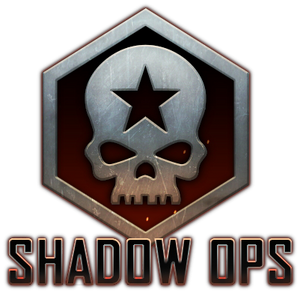 Basic Info
Shadow Ops consists of 4 Parts:
Tiered Prize System
Standard Shadow Op Mission
Covert Strike Missions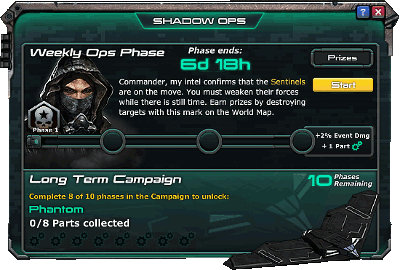 Shadow Op Prizes
CURRENT CYCLE PRIZES
Template:Shadow Ops Prizes - C36
Shadow Op Campaign Prize
CURRENT CAMPAIGN PRIZE

  PRIZE FOR SHADOW OPS CAMPAIGN #

13

 :

Lightning Strike

  

DATES AVAILABLE :

July 28, 2017

thru

--
Complete 8 of 10 Phases of the Campaign to Unlock

Blackout
Shadow Op Prize History
For a complete list of Prizes offered in previous Cycles and Campaigns see Past Shadow Ops Prizes

Special Event Damage Buff
Completing Shadow Op Phases will also award the Player with up to 4 Special Event Damage Buff that will be applied to the Player during the next Special Event.
Rogue Shadow Op's Target Base Info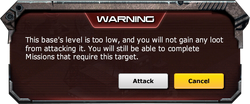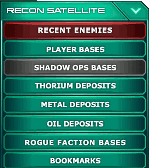 Rogue Target Base Layouts
Cycle & Campaign History
To view the complete Cycle & Campaign History please see the following page : Shadow Ops History
Shadow Op Update History
Listed in Reverse Chronological Order -- Click Expand to View Earliest Updates
Additional Info
Operation: Iron March marked the first time the Shadow Op's Damage Bonus was used in a Special Event.
The

Campaign

function was introduced with the start of the 2nd

Cycle

of Shadow Ops.
Now player can get the thorium by completing a tier instead of getting the medals.
Trivia
Covert Strike! - Phases became repeatable to gain additional Tier Prizes.

Repeatable began with the 2nd Phase of Cycle 12 which started on Jun 05, 2015.
Originally Only additional Tier Prizes were available. No additional Campaign Prize Parts or Damage Bonuses were given for repeating phases.
Additional Campaign Prize parts were added to the list of repeatable prizes starting with 2nd Phase of Cycle 13 which began on Jul 03, 2015. ref

Shadow Ops is very similar to the Battle Pirates weekly event Forsaken Mission .
You can not deploy Mercenary Mech on the northeast highland in Sentinel Level 45, although it is clear for them to land.
The player may need at least Level 10 Rank Specialist to play Shadow Ops.
Tier 3 in Shadow Ops will first reward prizes you do not yet own - there is no set order for when these prizes are rewarded just as long as you don't own them yet. Once you've unlocked everything in tier 3 at least once, you will then be awarded duplicate prizes.
Quotes
Click Expand to View Additional Quotes
"

It's time to execute a Covert Strike! Your intelligence forces have made a breakthrough. Your mission, should you choose to accept it, is to execute tougher Shadow Ops missions to reap additional spoils of war. If you aren't up to the task yet, you can continue to embark on Shadow Ops missions each week as normal.

"



 
— Introducing Shadow Ops: Covert Strike! [src]
"

Introducing Shadow Ops - the newest way to prove you're the king of the battlefield! Your informant will alert you each week when a new mission is available. Think you're up for the challenge?

"



 

— Kixeye Announcement 
"

Commander, my intel confirms that the Armored Corps are on the move. You must weaken their forces while there is still time. Earn prizes by destroying targets with this mark on the World Map.

"



 

— In-Game Description 
Related Pages
FAQ
Hit Expand to View This Section
I am doing the Shadow Ops phases to get the elite titan; will there be any more new units (including elite versions of already existing units) offered in future phases; and also, will the prizes in tiers 1 or 2 ever be switched out?
Will you be creating level 30 and 35 bases for shadow ops?
External Links
Gallery - Animated
Gallery
Images may have been resized to fit in the page. Click on an image to enlarge.
Gallery - Historical
Images may have been resized to fit in the page. Click on an image to enlarge.
Video
02:02

War Commander Shadow Ops
Ad blocker interference detected!
Wikia is a free-to-use site that makes money from advertising. We have a modified experience for viewers using ad blockers

Wikia is not accessible if you've made further modifications. Remove the custom ad blocker rule(s) and the page will load as expected.