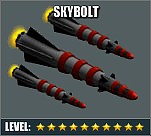 | | | |
| --- | --- | --- |
|   Travel Time      | Space | Cooldown Time |
| 14 Seconds | 100 | 30 Seconds |
Status Effect Weapon : Concussion ( Stun )
Renders All Affected Unable to Move or Fire Weapons • AoE Weapon
Stat Progression
Level
Upgrade Cost
Upgrade
Time
Defense Lab
Production Cost
Prod Time
Health
Blast Radius
Damage
Launch #
Metal
Oil
Thorium
Metal
Oil
Thorium
1
13,000,000
13,000,000
0
1d
8
4,000,000
4,000,000
0
25m
36,000
100
300
1
2
18,000,000
18,000,000
0
2d
8
5,000,000
5,000,000
0
25m
120
400
1
3
25,000,000
25,000,000
0
7d
8
6,000,000
6,000,000
0
25m
130
500
1
4
28,000,000
28,000,000
1,000,000
5s
9
8,000,000
8,000,000
75,000
5s
140
600
2
5
30,000,000
30,000,000
1,500,000
5s
10
10,000,000
10,000,000
100,000
5s
150
700
3
Total
114,000,000
114,000,000
2,500,000
10d 0h
Related Mission(s)
Mission
Icon

__________

Mission Description

__________

Awards for Completion
Metal
Oil
Medals
Unlock Skybolt
Unlock the Skybolt Missile In Defense Lab.
10,000
10,000
 0
Some Missions May Not Be Available Until The Completion Of Others.
Additional Facts
The Skybolt Missile produces the Concussion ( Stun ) Status Effect which renders all Non-Customized Infantry Units ( except the Hercules, Gladiator, Vanguard and Valkyrie ) unable to Move or Shoot.
The Skybolt Missile will Stun all Infantry Units housed inside any Bunker type.
The Stun Effect of the Skybolt Missile last for a duration of 12 seconds.
The Skybolt Missile requires Thorium to Upgrade to & Produce Levels 4 & 5.
The Skybolt MissileThorium levels launch multiple Missiles at a time with a maximum of 3 at level 5. ( See Table ).
The Skybolt Missile has its Health almost doubled at Level 4, making it much more resistant to Defensive Fire.
All Missile Silo Missile's received a across the board substantial increase in Health.  This accrued in a unannounced Game change in April 2014.
In-Game Quotes
"

The sonic blast of the Skybolt missile renders all Infantry and bunkers incapacitated for 12 seconds.

"



 

— In-game description 
"

Meet the Skybolt Missile - capable of killing scores of infantry in one fell swoop. Unlock it now in the Defense Lab.

"



 

— R.U.B.I. - Mission 
"

This sounds almost as bad as it hurts!

"



 

— Skybolt Unlocked posted to Facebook 
Gallery
Video
---
Griffin • Burner • Tomahawk • Skybolt • Shock • Corrosion • Deadeye • Peacekeeper
---
Missile Related Pages
---