STORAGE
Building Description
Allows for control of all functions related to Platoons including Creation, Managing, Repairs and Base Defense.
Effects of Upgrade

Upgrade to increase Total Land Unit & Platoon Capacity and number of Platoons that may be deployed on map at one time.

Building Group
Military Buildings
<< Top >>
Next >>
Upgrade Progression
Storage
Level
Upgrade Cost
Upgrade Time
Command Center
  Power 
  Usage  
Plats on Map
Platoon Capacity
Land Unit Capacity
Metal
Oil
1
1,000
800
25s
1
5
4
480
2,800
2
17,000
12,800
4m 10s
1
10
4
550
3,825
3

43,000

32,000

50m 00s
1
15
6
620
6,025
4
108,000
81,000
4h 10m
2
20
6
710
7,640
5
270,000
203,000
12h 30m
2
25
7
810
12,200
6
675,000
506,000
1d 0h
3
30
8
920
13,700
7
1,688,000
1,266,000
2d 0h
4
35
9
1,050
17,100
8
4,220,000
3,165,000
3d 0h
4
40
9
1,200
19,200
9
10,550,000
7,913,000
4d 0h
5
45
10
1,350
24,600
10
26,375,600
19,781,000
5d 0h
5
50
10
1,500
27,100
Total
43,946,600
13,746,840
15d 17h 34m
Upgrade Experience
Experience Points Awarded per Upgrade Level
Level 1
Level 2
Level 3
Level 4
Level 5
Level 6
Level 7
Level 8
Level 9
Level 10
N/A
3,190
10,818
28,350
47,527
180,790
443,740
1,085,740
2,658,240
6,556,940
For More information on this see Experience Points.
States of Repair
COMING SOON...
Building Function
Platoon Functions
The Storage.... ( coming )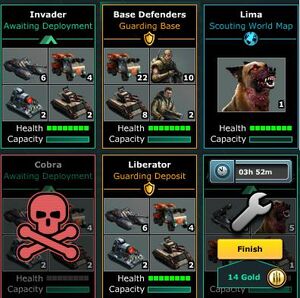 For further information see Platoons.
Base Defense
The Storage...... ( coming )
Additional Facts
The Base Defense Capacity is completely determined by the Command Center, not the Storage.
The Storage draws no power from the Power Plants when not in use ( Repairing Platoons ) or undergoing an upgrade.
The Storage draws 50% its normal rate of power from the Power Plants when being upgraded.
The Player has no access to the Platoons housed within the Storage through the building itself when Damaged. However the Storage will continue to perform its repair function as normal and may still be accessed by pressing the "Platoon" button on the Mission Box Menu.
Damaging the Storage Building itself does not harm the Units housed within.
Eligible Units not assigned to a Platoon or to Base Defense my be transferred from the Storage to any constructed Bunker on the Base.
Although it shows Resource amounts of 1,000 Metal / 800 Oil and a build time of 25s for the construction of a Level 1 Storage, the Player is not required to do this because the Storage is one of the Original 7 Structures that are already present on the Base when the Player first starts playing War Commander. The others are: The Command Center, Barracks, 1 Power Plant, 1 Metal Factory, 1 Oil Pump and 20 Barricades.
Originally called the Staging Area. Renamed to Storage on June 18, 2012.
Replaced the War Room when the World Map was introduced.
The Storage an 8x8 Footprint with a total area of 64, tying it with the Command Center for the largest.
Discussion Thread > Air Storage.
Known Issues
Hit Expand to View This Section
Listed here are bugs that have been identified with this Unit or Feature. Once fixed each issue will be moved to Resolved.
Existing Known Bugs :
Resolved Bugs :
Fixed an issue that caused the cursor to jump when removing units from platoons.
Fixed an issue that caused repaired unit to shrink.
Forum Discussion Links :
Game Quotes
"

Houses the units you wish to deploy on the map in order to attack other players or capture resource deposits.

"



 

— In-game Description 
Building History
Gallery
---
General
---
Resources
Power Plant • Metal Factory • Oil Pump • Metal Storage • Oil Storage • Thorium Vault
---
Military
Storage • Barracks • Radio Tower • Academy • War Factory • Tech Center • Airfield • Workshop • Aircraft Hangar
---
Defense
Defense Platform • Defense Lab • Missile Silo • Go-Go Bar • Bunker • Drone Silo • Rocket Silo • Mine Factory • Barricade
---
Individual Bunkers
Bunker • Stronghold • Watchtower
---
Turrets
Machine Gun • Mortar • Flak Gun • Hellfire • Laser • Plasma • Rocket Barrage • Shock • Cryo Cannon • Napalm • Blitz
---
Retired / Unreleased Buildings
Junkyard (Retired) • War Room (Retired) • Repair Shop (Unreleased)