1,159 Articles and 203,002 edits since Aug 30, 2011. Please read Rules and Policies.
DISCLAIMER PLEASE READ!!!______
WE ARE NOT KIXEYE!______
-
Admins of this wiki do not have any direct affiliation with KIXEYE!
If you need in-game help make a Community Support Forum Post or contact the official Help Ceneter directly to Kixeye instead of contacting an wiki Admin.
Please Remember, that this is a community run wiki and is not owned or operated by KIXEYE. The Wiki Admins & Rollbacks are NOT Kixeye Employees. Please do not post feedback, game problems, or ask for non public information such as the next event date.
Found a bug? Found a hacker? Got banned? Lost event xp/prize? We can not help & nothing will be done. To get help report it to Kixeye directly at WC Help Center

Do you you rate the new Campaign Track System introduced in Operation: Stormfront?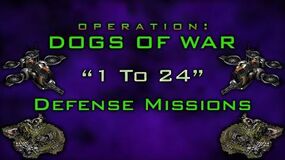 Player Video : Operation: Dogs of War Defense Track

Like the Official Fan Page for War Commander