Home
Talk

54
335pages on
this wiki


FOLLOW INSTRUCTIONS OR GET BANNED!!!!
This is to inform everyone that if you post ANYTHING that may contain any non public non verifyable information may result in you getting your content removed and you banned.
Anything that is not public knowlege will be assumed spam and we will NOT tollarate it, IE. Widowmaker schematic. (doesn't exist)
You will however be allowed to post to your wall to justify any bans.
If there is anything that may be unsure. you WILL be asked to provide proof. Failure to do so will tag you as a spammer and you will get banned.

Other Pages
---
LISTED MAP SPEEDS
-
The Listed Map Speeds Are Not Correct
As you may know Kixeye permanently Increased the Map Speeds of all Units. Therefor the Map Speeds listed on this Wiki are unreliable :

This Information is found for a Unit when they are placed in a Platoon. But currently all units show a Map Speed of 1.0 :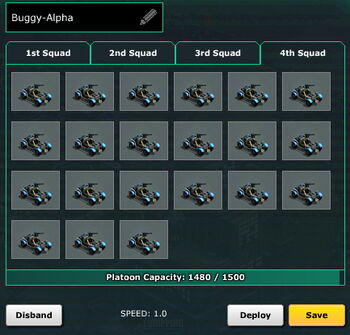 As this is corrected in the Game it will be updated here. - Thank You WCWikia Admin.
----