---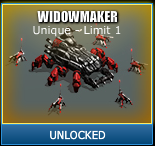 | | | | | | | |
| --- | --- | --- | --- | --- | --- | --- |
| Splash Damage | Space | Infantry | Vehicle | Air | Building | Map Speed |
| No | 800 | Good | Good | Good | Best | |
Stat Progression
Level
Upgrade Cost
Upgrade Time
Tech Center Level
Production Cost
Speed
Health
Range
Damage (DPS)
No. of Drones
Metal
Oil
Thorium
Metal
Oil
1
N/A
N/A
N/A
Instant
10
35,000,000
35,000,000
1.0
85,800
20
48,850
3
2
22,000,000
22,000,000
0
5d 00h
10
35,500,000
35,500,000
1.0
93,000
20
51,900
3
3
24,000,000
24,000,000
0
6d 00h
10
36,000,000
36,000,000
1.0
100,200
20
54,950
3
4
28,000,000
28,000,000
0
7d 00h
10
36,500,000
36,500,000
1.0
107,400
20
58,000
3
5
32,000,000
32,000,000
500,000
5s
10
37,000,000
37,000,000
1.0
114,600
20
61,050
3
6
36,000,000
36,000,000
750,000
5s
10
37,500,000
37,500,000
1.0
121,800
20
64,100
3
7
38,000,000
38,000,000
1,000,000
5s
10
38,000,000
38,000,000
1.0
134,100
20
67,150
4
8
40,000,000
40,000,000
1,500,000
5s
10
38,500,000
38,500,000
1.0
146,400
20
70,200
4
9
42,000,000
42,000,000
2,000,000
5s
10
39,000,000
39,000,000
1.0
167,580
20
73,250
4
10
45,000,000
45,000,000
2,000,000
5s
10
40,000,000
40,000,000
1.0
210,000
20
76,300
4
11
45,000,000
45,000,000
2,000,000
5s
10
40,000,000
40,000,000
1.0
231,000
20
83,930
4
12
45,000,000
45,000,000
2,000,000
5s
10
40,000,000
40,000,000
1.0
252,000
20
91,560
5
13
45,000,000
45,000,000
4,000,000
5s
10
40,000,000
40,000,000
1.0
273,000
20
99,000
5
Total
442,000,000
442,000,000
15,750,000
18d 00h 
Yellow indicates increase from previous level. Underline Indicates Maxed Value.
Build Times & Repair Information
Level 10 War Factory Build & Repair Times Per Widowmaker Level
Level 1
Level 2
Level 3
Level 4
Level 5
Level 6
Level 7
Level 8
Level 9
Level 10+
Build
2d 5h 59m
2d 10h 54m
Repair
10h 48m
10h 48m
13h 10m
Level 10 War Factory Repair Costs Per Widowmaker Level
Metal
7,000,000
7,100,000
7,200,000
7,300,000
7,400,000
7,500,000
7,600,000
7,700,000
7,800,000
8,000,000
Oil
7,000,000
7,100,000
7,200,000
7,300,000
7,400,000
7,500,000
7,600,000
7,700,000
7,800,000
8,000,000
Times for other War Factory Levels may be calculated by adding 5% for each level below Level 10.
Additional Facts
Introduced during Operation: Deadpoint.
Production of the Widowmaker is LIMITED to ONE (Unique)
The Widowmaker is accompanied by several Machine Gun Drones. 
The Widowmaker will deploy replacement Machine Gun Drones as they are destroyed.
The supporting Machine Gun Drones are able to target and fire apon any Aircraft in range.
The first Unique unit in War Commander.  ...Unless you count the Kondor.
The Widowmaker is Immune to the Status Effects : Shock, Cryo (Slow), and Concussion (Stun).
The Widowmaker is extremely resistant against bullets. ( ? Resistant or Just High Health ? )
Its extremely high health makes it a very good Baiting unit to draw fire away from other attacking units.
With a Range of 40 Suicide Bombers can be a big threat to the Widowmaker with a Range of only 20.  It only takes approximately 10 Level 10+ Suicide Bombers to kill an unescorted Widowmaker.
Land Mines are very effective against the Widowmaker or any other high Health Unit due to the fact they cause a Percentage of Health Damage as opposed to have a straight DPS number.  This means the greater the Health of the Unit the bigger the damage caused by the mine.
One good defensive unit to use against Rogue Faction-operated Widowmakers are FAVs. The FAVs will run rings around the Widowmaker continuously dealing damage to it. Defenders need not worry about the drones, as both their low health and the FAV's natural resistance to bullets means that they won't be able to deal enough damage to matter.
In-Game Quotes
"

A well armored beast that runs over its foes with ease. Aided with the support of deployed machine gun drones, the Widowmaker carves through anything standing in its path.

"



 

— Event Shop Description 
"

Thorium-Energized interior factories allow the Widowmaker to deploy even more drones, making it an unstoppable juggernaut that rips through buildings.

"



 

— Thorium Level Description 
Known Issues
Hit Expand to View This Section
Listed here are bugs that have been identified with this Unit or Feature. Once fixed each issue will be moved to Resolved.
Existing Known Bugs :
Resolved Bugs :
Fixed an issue with Widowmaker audio.
Forum Discussion Links :
Request For Information by Admin
Please Help with this page by clicking "Expand" to reveal a list of Needed Information and other Admin Requests.
-
-- PLEASE DO NOT EDIT THIS SECTION --
Below is a list of specific information being requested by the Admin to help complete this page.
Please post all replies in the Comment Section
Request for Needed Information :
All Stats - PLEASE DO NOT DO YOUR OWN MATH TO FILL IN TABLE.
Build Times ( Found in the War Factory Build Stats ) and Repair Times --- BUT ONLY FOR LEVEL 10 War Factory.
Request for Verification of Existing Information :
Can we verify the Additional Fact that this is immune to Shock, Cryo and Concusion.
Request for Specific Screenshot or Pics :
Really NEED. Shots of the Stats for each Widowmaker Level taken from the War Factory Build Screen like the one below.  Doesn't matter the level of War Factory is for these but if not Level 10 please specifiy what it is ( No cropping needed - we can do it )

Request for Answers to General Questions :
What building is this Upgraded in, The Tech Center?
------
Whenever possible please provide screenshots of information. This is especially helpful when giving corrected information of data that has been requested to be verified.
------
Be Aware : Due to a Bug with the In-Game Stats on Upgade Screens Please only use Unit Stat Info from the Airfield, Barracks or War Factory. Only the the Upgrade Cost & Time should be taken from the Academy or Tech enter.
---
Animated Photo
Gallery
Slideshow
Video
---
Riflemen • Valkyrie • Heavy Gunner • Mortar Team • Flamethrower • Attack Dog • Suicide Bomber • Sniper • Stinger • Shock Trooper • Hercules • Colossus • Vanguard • Gladiator • Viper • Medic (Retired) • Tech (Retired)
---
Jackrabbit • Rocket Buggy • Humvee • Rhino • Honey Badger • Razorback • Gatling Truck • Paladin • Shock Tank • Flak Tank • Suicide Truck • FAV • Laser Tank • Challenger • Hellfire • Mega Tank • Behemoth • Enforcer • Widowmaker • Crusader • Hover Tank
---
Wing Drones • Copter Drones • Reaper Drone • Slayer Drone • Cobra • Thunderbolt • Warhawk • Raptor • Havoc • Kondor • Hellstorm • Halcyon • Spectre • Titan
---
Normal Zombie • Bomber Zombie • Juggernaut Zombie • Anti-Air Zombie • V2 Spotter • Chinook • R.U.B.I.