WORKSHOP
BUILDING DESCRIPTION
Used to Upgrade and Equip all Customized Schematics to available Units.
EFFECTS OF UPGRADE
Upgrading the Workshop grants access to additional and higher level Schematic Components. The Component Replicator becomes active at Level 11.
REQUIREMENTS
Level 3 Command Center
<< Prev
( C )
Military Building
( T )
Next >>
Upgrade Progression
Level
Upgrade Cost
Upgrade
Time
Command
Center
Power
Usage
Metal
Oil
1
3,000
3,000
5m
3
50
2
44,000
17,600
1h
3
75
3
96,800
38,720
4h
3
100
4
212,960
85,184
12h
4
125
5
468,512
187,405
1d
4
150
6
1,030,726
412,291
1d
4
175
7
2,267,598
907,039
1d
5
200
8
4,988,716
1,995,486
1d
5
225
9
10,975,175
4,390,070
3d
6
250
10
16,145,384
9,658,154
5d
6
275
11
120,000,000
120,000,000
7d
220
Total
159,232,871
137,694,949
19d 17h 5m
Upgrade Experience (XP)
Experience Points Awarded per Upgrade Level  ( T )
Level 1
Level 2
Level 3
Level 4
Level 5
Level 6
Level 7
Level 8
Level 9
Level 10
1,809
6,790
19,840
45,316
102,156
227,846
528,755
1,097,790
2,362,742
4,623,527
Level 11
Level 12
Level 13
Level 14
Level 15
Total Experience Points =

36,093,638 xp

27,077,067
N / A
N / A
N / A
N / A
For More information on this see Experience Points.
States of Repair
NORMAL
DAMAGED
DESTROYED
100% to 50% Health
49% to 1% Health
0% Health
TOTAL REPAIR TIME 0% to 100% :

30 sec
Building Function
Each Unit can have 9 different designs (templates, or combinations of Items). 
Units are assigned a design individually.  Therefore, a Platoon may consist of units with several different designs.
Customized units and non-customized units have the same repair time.
The icons/symbols of customized units are seen by attackers. This can make hiding them difficult.
The workshop capacity is determined by the level of the unit that wanted to be customized (example: level 7 unit has 700 capacity, Level 9 unit has 900 Capacity), but not by the workshop level.
If a unit already has a modification, and it is changed to a new design template that also has that modification, you do not have to pay for the mod twice.
Customizable Units
20 Units Schematics are currently available for Customization in the Workshop : Infantry Units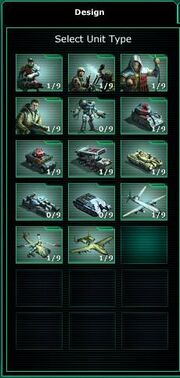 Vehicle Units
Aircraft Units
Customizable Items
Each Schematic has several Customizable Items, called Components. 
1 to 5 of these components are grouped into groups, called Component Groups. 
3 to 6 Component Groups may be found on a Schematic.
For Further Information See UNIT CUSTOMIZATION.
Related Missions
STANDARD MISSION  ( T )
MISSION
ICON
MISSION DESCRIPTION
COMPLETION AWARDS
IMAGES
METAL
OIL
Pre
Post
Set Up Shop
Build a Workshop.
10,000
10,000
X
X
Some Missions May Not Be Available Until The Completion Of Others.
Update History
Listed in Reverse Chronological Order -- Click Expand to View Earliest Updates
Additional Facts
The Workshop only consumes power from the Power Plants when :

Upgrading a Schematic Component ( 100% usage )
Upgrading the Workshop itself ( 50% usage )
Trivia
The Workshop has a 5.5 x 5.5 Footprint.
Building Pixel Sheet Code : 46
Quotes
Click Expand to View Additional Quotes
"

The workshop allows you to research customizations, create designs, and apply them to units.

"



 

— In-Game Description 
"

Nothing can stop you now, Commander!

"



 

— Level 10 Message - Facebook 
Related Pages
External Links
Gallery
Images may have been resized to fit in the page. Click on an image to enlarge.
Gallery - Historical
Images may have been resized to fit in the page. Click on an image to enlarge.
Video
For more videos on this topic see : Additional Video
02:06

War Commander Customizable Units

00:57

Component Replicator
Ad blocker interference detected!
Wikia is a free-to-use site that makes money from advertising. We have a modified experience for viewers using ad blockers

Wikia is not accessible if you've made further modifications. Remove the custom ad blocker rule(s) and the page will load as expected.