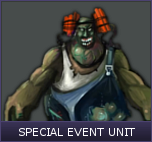 CLASS
UPGRADE METHOD
PRODUCTION METHOD
Special  •  Zombie
None
N / A
DAMAGE TYPE
RELOAD
CLIP
DAM / SEC
FIRE RATE
TARGETS
SPLASH
AREA
N / A
N / A
N / A
N / A
YES
UNLOCK REQUIREMENTS
SIZE
UNLOCK RESTRICTIONS
None Or Unknown
N / A
None Or Unknown
NON PLAYER CONTROLLED ( NPC ) UNIT
This Unit May Not Be Unlocked By The Player
General Zombie Information
Key Features
ATTACK

 :

The Bomber does High DIrect & Splash ( AoE ) Damage.

Explodes on contact with its target.

DEFENSE

 :
Appearance History
Additional Information
Trivia
Gallery - Animated
Gallery
Images may have been resized to fit in the page. Click on an image to enlarge.
Video
For more videos on this topic see : Additional Video
Ad blocker interference detected!
Wikia is a free-to-use site that makes money from advertising. We have a modified experience for viewers using ad blockers

Wikia is not accessible if you've made further modifications. Remove the custom ad blocker rule(s) and the page will load as expected.